Paper & Forest Products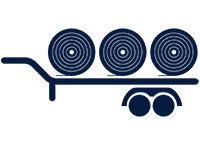 A number of our ports, including Tilbury, Dundee, Rosyth and Grangemouth, offer facilities for handling paper and forest products. These ports provide access to major trade routes, specialist handling equipment, and vast storage space. Detail on the services offered by each port are as below:
Tilbury
Tilbury is the UK's leading port for paper products and acts as the major entry port for the London print houses and publishers in the south-east.
Over 3 million tonnes handled per annum
Vast storage and distribution facilities available
Serves all major trade routes: Europe including Scandinavia, Russia and Baltic States, North and South America
Wide range of products: newsprint, magazine print, reeled and baled pulp, packaging materials, KLB and palletised cut paper
Specialist paper handling equipment
Latest technology, I.T support, and automated warehousing
Experienced and highly-skilled workforce
All major transport modes: Lo-Lo, Ro-Ro, side-port, containerised, and rail.
Tilbury is also the UK's main port for forest products with excellent links throughout the supply chain, including Shipping Lines, Importers, Merchants and Distributors. Services that Tilbury offers the forest products industry include:
Key trade areas served: Baltics, South America, North America, Far East and Africa
Both breakbulk and container services
Over 25 acres undercover storage: transit sheds and distribution facilities
Wide range of commodities handled; sheet materials, specialist timber products, doors, mouldings and more
A choice of de-vanning facilities for containerised product
On-site Wood Treatment Plant for sheet materials and timber
Facilities to handle domestically produced products.
For more information please download our Paper Product Insert
Forth Ports Scotland
Forth Ports Dundee, Grangemouth, Methil and Burntisland are our principal paper and forest products ports in Scotland. This offers customers a wide range of facilities to handle the full spectrum of products in Scotland, in any format, from both containerised and breakbulk cargoes.
Forth Ports Grangemouth has a dedicated Forest Products Terminal offering devanning, loading, warehousing and stock management. Products are handled by a modern fleet of forklift trucks, fitted with various clamp types for paper and pulp. Scotland's principal timber suppliers benefit from the port's central location and excellent onward transportation links.
Forth Ports Dundee has been a forest product specialist for over 35 years, handling newsprint, pulp and timber products; offering a significant timber terminal. Furthermore, our Dundee facilities have been extended to include full timber treatment and additional storage. Service levels are consistently high, and our customers regularly report lower damage rates for their forest products when benchmarking Dundee against other UK and European ports.
Fife Ports – Methil operates as an important hub for a major timber importer, who brings in over 30,000 tonnes of timber per year through the port. We provide cargo handling services, a stock management system, and a pick and pack service for onward deliveries to their customers. Burntisland handles imports for a port tenant and there is scope to handle more 3rd party volumes.
Forth Ports Leith and Rosyth – These two well placed ports also both have experience in handling paper & forest products and we would be happy to discuss opportunities at these locations with any potential customers.