Thursday 7th December 2023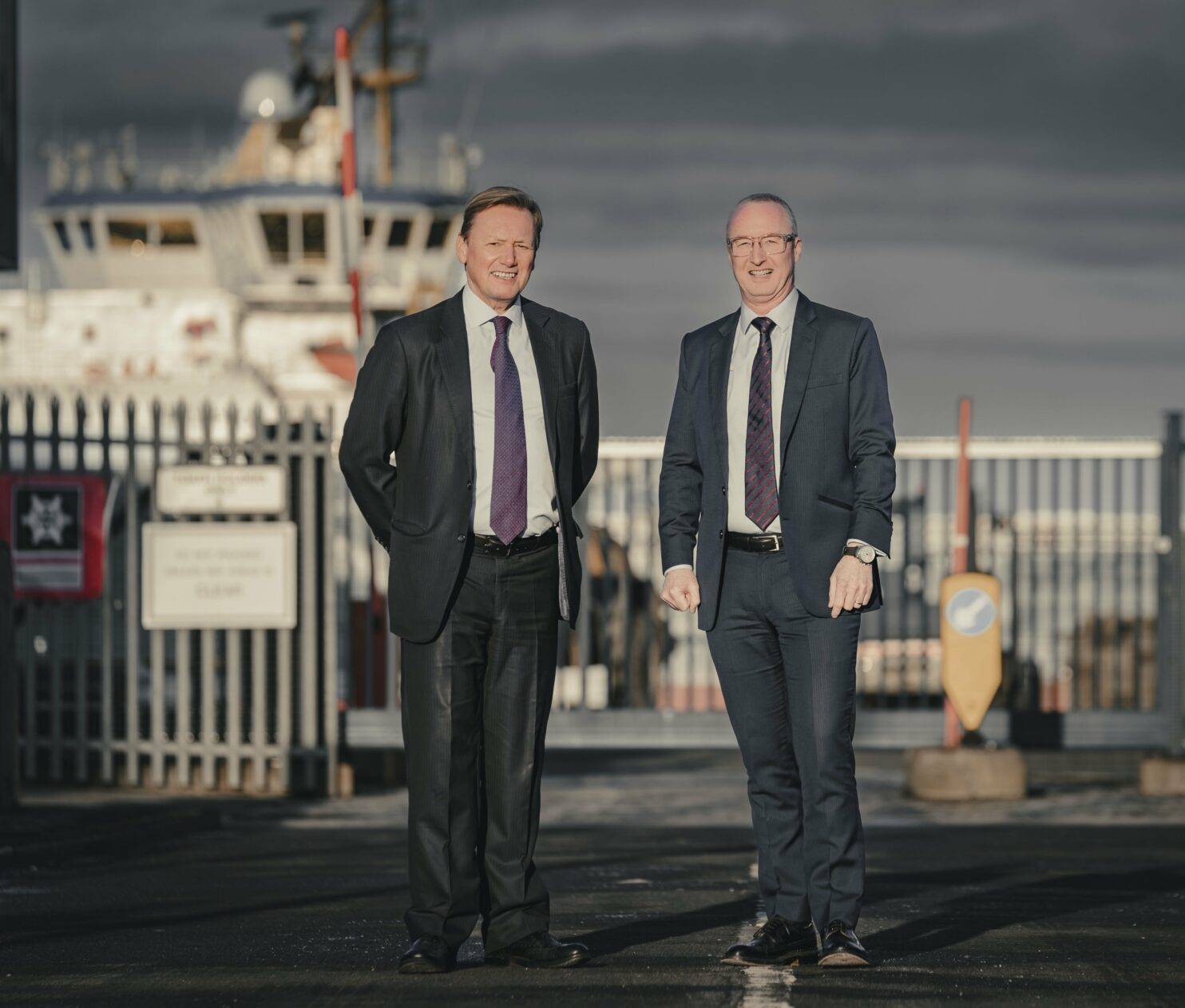 Forth Ports' Group Chief Executive, Charles Hammond OBE, has decided to step down from his role leading the UK's third largest ports group at the end of June 2024. His successor will be Stuart Wallace, who is currently the company's Chief Operating Officer.
Charles will work closely with Stuart over the next six months to ensure a smooth transition prior to Charles stepping down from the company. Stuart, who is already a member of the Forth Ports board, will take up his appointment on 1 July 2024.
Most recently, the company set out its ambitious plans to achieve net zero carbon emissions by 2042 and carbon neutrality by 2032. Forth Ports is also a major partner in both the Thames Freeport and the Forth Green Freeport, which last month submitted its Outline Business Case to the Scottish and UK Governments.
The company is also a major player in the renewable energy sector. A private investment programme, totalling £150 million, has already provided crucial support to offshore wind development with the creation of bespoke renewables hubs in Dundee – currently supporting the construction of the Neart na Gaoithe offshore wind farm –and in Leith. There are also early plans to develop a floating wind hub across the River Forth at Burntisland.
Commenting on his decision to step down as Group CEO of Forth Ports, Charles Hammond OBE, said:
"It has been the privilege of my career to lead Forth Ports. From the significant growth of the business both sides of the border to the challenges of the Covid pandemic and Brexit, I have been fortunate enough to have been supported by the best team in the industry.
"The most consistent feature of my time at Forth Ports has been the stability that we have sought to create and, while I step down at the most exciting of times, I do so with the confidence that I will leave behind a business that is in great hands and very well positioned to continue to flourish."
Stuart Wallace, Chief Operating Officer and Group Chief Executive Elect, said:
"I am proud and honoured to have been asked to lead this fantastic organisation as we face the challenges and opportunities of a just transition to net zero and the significant expansion of Scotland's renewable energy sector.
"With the great team that we have built right across the business, I am confident that Forth Ports will continue to thrive. I am immensely grateful to Charles for steering the business into such a strong position and for his mentorship and support for me personally. I look forward to the next chapter in the Forth Ports story with relish."
Patrick Samson, Senior Vice President and Global Head of Real Assets Investments at PSP Investments, Forth Ports' principal shareholder, said:
"Charles will have been CEO at Forth Ports for more than 23 years when he steps down and we are grateful for his exceptional leadership and his contributions to the company over the last 12 years of our ownership.
"As we look to the future, we are excited to see Stuart succeed Charles as CEO. With his extensive operational experience and strategic mindset, we are confident in Stuart's ability to lead Forth Ports through the next stage of its growth. We wish Charles all the best in this next phase of his career and look forward to continuing to work with Stuart and the broader management team."
Charles was awarded an OBE in the 2020 Queen's Birthday Honours List for services to the UK ports industry and to Scottish business and last month stood down from his role as Chair of the UK Major Ports Group after 10 years at the helm.
A qualified lawyer, Charles, who will be 63 when he steps down, joined Forth Ports when it was a publicly run ports and river authority in 1989 as Company Secretary.
He was appointed Chief Executive in 2001 and has overseen Forth Ports' expansion to a point today when the company owns and operates eight commercial ports, including Tilbury on the Thames, six ports on the Firth of Forth and Dundee on the Firth of Tay. He also oversaw the company's move from a publicly listed PLC to private ownership in 2011.
A qualified Chartered Accountant, Stuart Wallace (53) joined Forth Ports in 2002, initially as Financial Controller for its Scottish region, prior to being seconded to the Port of Tilbury to run general port operations and the London Container Terminal. He returned to Scotland in 2013 having been appointed Divisional Director for the company's Scottish operations.
He was appointed Chief Operating Officer in 2017, joining the board at that point, and is responsible for all operational activities of the Group. Stuart is also a non-executive director of Business Stream, one of the top three water retailers in the UK and a wholly owned subsidiary of Scottish Water.