Thursday 23rd November 2023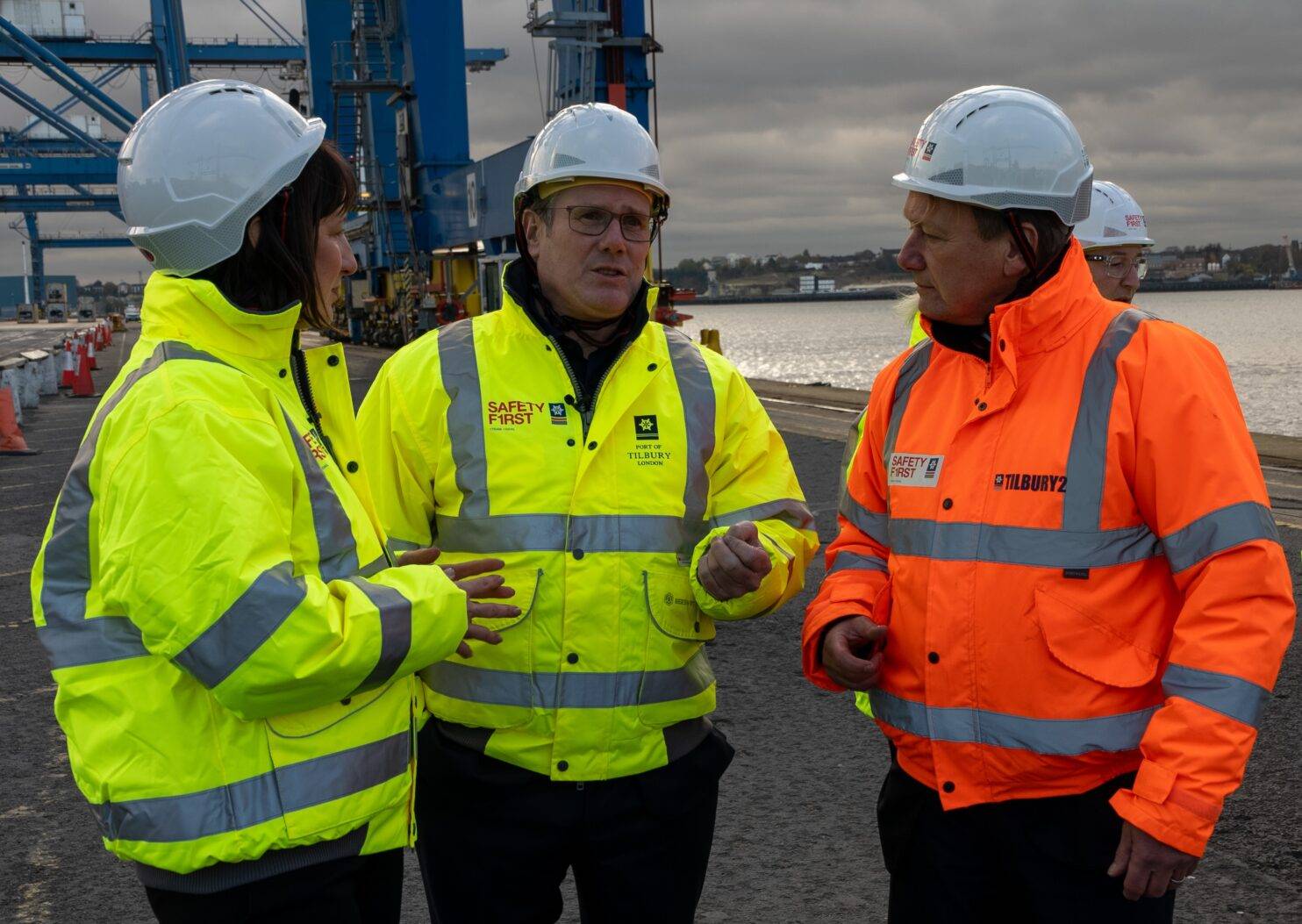 Today (23 November), Keir Starmer, leader of the Labour Party and Rachel Reeves, Shadow Chancellor of the Exchequer, toured the Port of Tilbury to see first-hand the importance of building infrastructure to generate growth in the UK.
During the overview of London's major port and its expansion plans, both politicians also received a briefing on the supply chain demands across some of the country's fast-developing sectors, including offshore wind, hydrogen and sustainable fuels.
The team discussed how government and industry can work in partnership to create sustainable, well-paid jobs across the country through a strong industrial strategy.
As well as hearing the business' plans for the future, Starmer and Reeves also met a group of apprentices at the forefront of the port's important work. The port's ongoing apprenticeship and advanced apprenticeship programmes aim to build the skills base to support rapidly growing business areas such as consumer goods, building materials and recyclables.
Forth Ports owns and operates The Port of Tilbury, alongside seven other commercial ports on the Firth of Forth and the Firth of Tay: Grangemouth, Dundee, Leith, Rosyth, Methil, Burntisland and Kirkcaldy. The Port of Tilbury is the number one UK port for forestry products, construction materials, paper, grain and recyclables. The port has a strong market presence in bulk commodities, containers / trailers, cars (import and export) and cruise vessels.
Welcoming Labour's top team to Tilbury where Forth Ports outlined their net zero mission, Charles Hammond OBE, Chief Executive of Forth Ports Group (owner of the Port of Tilbury and Tilbury2), commented: "Ports are epicentres for the growing green economy. Our multi-million investment plan across our major ports – Tilbury, Burntisland, Leith, Grangemouth and Rosyth – will accelerate the nation's path toward a decarbonised economy built upon low carbon logistics, low carbon fuels and low carbon power generation."
Keir Starmer MP, Leader of the Labour Party, said: "Here at Tilbury Port, I was struck by the scale of the operations, the scale of the group's green ambitions and their commitment to develop young people into the managers of tomorrow. Meeting the apprentices, it's clear how investment into the area will smash the class ceiling and break down the barriers to opportunity for young people.
"My Labour government will share ambition like the one I've seen here today, driving growth and the next generation of jobs through investment in the infrastructure needed to deliver clean power. My mission-driven Labour government will get Britain building to create jobs, and deliver a prosperous economy."