Community group's textiles to mark 70th anniversary of Windrush arrival in Tilbury
Friday 30th March 2018
Community group's textiles to mark 70th anniversary of Windrush arrival in Tilbury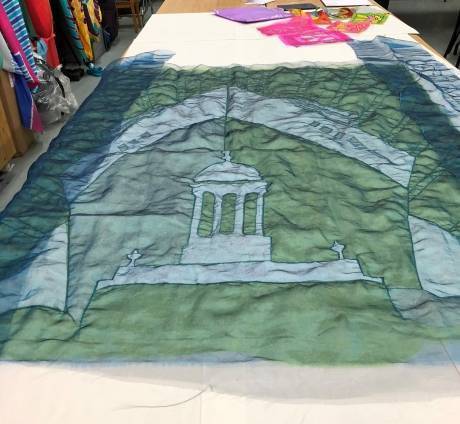 Kite Spirit Textiles mark Windrush 70th Anniversary at London Cruise Terminal
Kite Spirit Textiles have been working with The Port of Tilbury to create a fabulous piece of art using textiles to celebrate the 70th Anniversary of the Empire Windrush. The group are also looking at creating amazing textile panels for the vast windows in the London International Cruise Terminal in Tilbury that outline the history of the building and tell a story.
The group are working on a large textile piece that reflects Jamaica and the lush countryside with all the tropical flora and fauna. Everyone involved has been working on individual pieces at home and then they meet once or twice a week to assemble their works of art and marvel at each other's work.
The story of the Windrush will be told in three different panels that will be hung in the Cruise Terminal in Tilbury for the Windrush Anniversary celebrations on the 22nd June; during the port Open Day on the 21st July; and throughout the summer.
The textiles will be a spectacle and the story of their creation – from research and planning, to the individual creations and assemble of the final works of art – make it a truly collaborative and spectacular piece of work.
The Port of Tilbury enjoys being part of these projects and this one has been great to watch as it develops and there is much excitement to see the final piece.
30 March 2018
– ends –