Dundee kicks off cruise season with arrival of Ambassador's new ship Ambition
Monday 15th May 2023
Dundee kicks off cruise season with arrival of Ambassador's new ship Ambition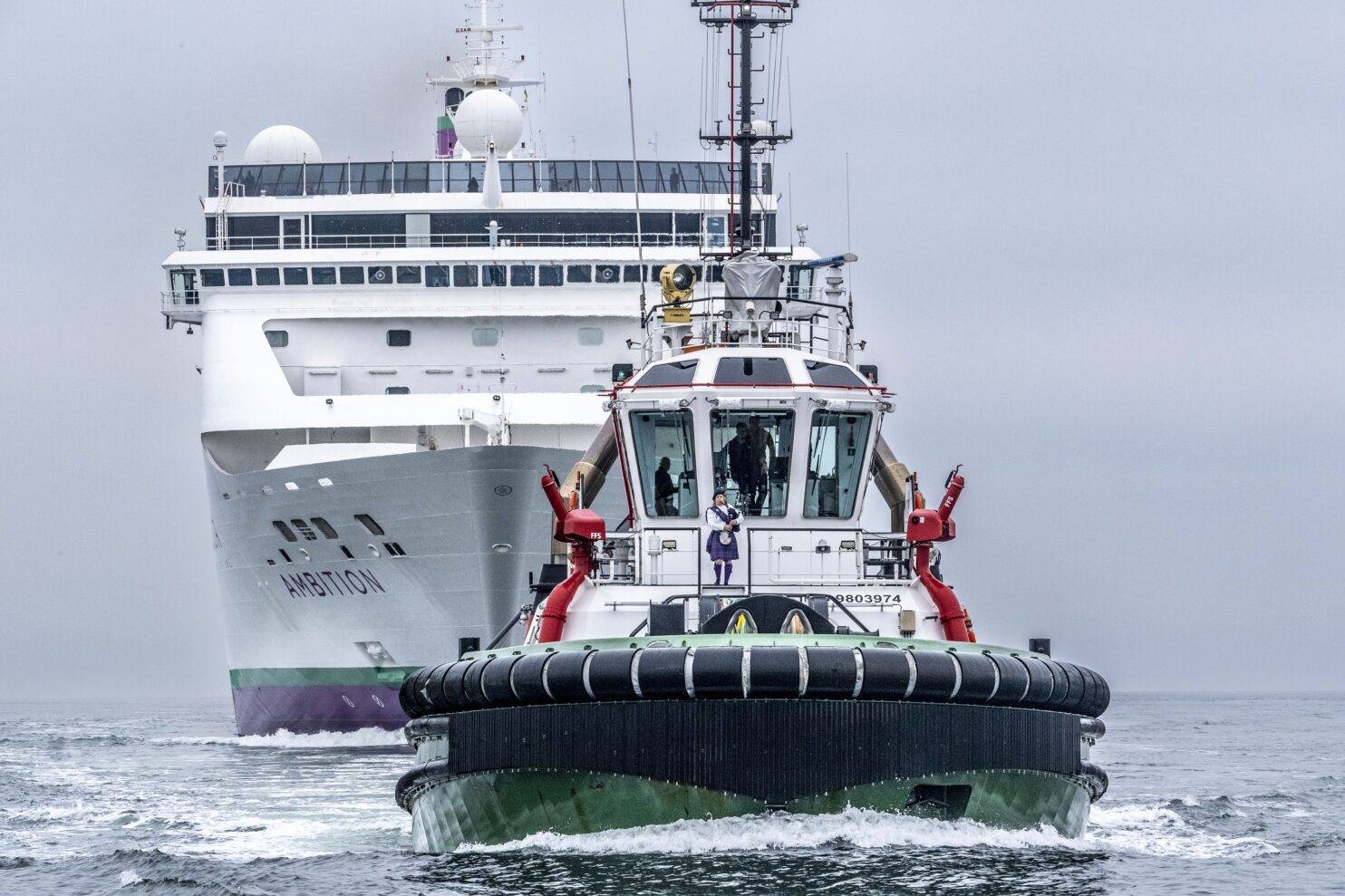 Ambassador Cruise Line, the UK's leading premium value, no-fly cruise line, is proud to have launched its second lady of the sea, Ambition. The launch was marked at an official Gala Event on Thursday 12 May, hosted by CEO Christian Verhounig and Dundee-born Godmother Shirley Robertson OBE, followed by the maiden voyage into Dundee for the first cruise call of the season on Saturday 13 May.
Every year, Forth Ports Dundee welcomes multiple cruise vessels to the port. 14,800 people in Scotland are directly employed in the ports industry, with an estimated £1.9bn GVA contributed to Scotland's GDP each year.
Cruise ship calls in 2023 for Forth Ports' Capital Cruising Business on Scotland's east coast are set to jump by 50%, with around 150 (2022: 100) cruise ships, carrying an estimated 225,000 passengers, expected to visit Edinburgh, Fife and Dundee this year. Dundee will host a total of 15 cruise calls this season, with Ambassador making up a third of those. Estimated passenger spend per head for cruise visitors to Dundee is around £135, highlighting the industry's important boost to the local economy.
The launch of Ambition sees Ambassador welcome guests onboard from eight different UK departure ports for the first time, enabling more of the population to enjoy the convenience of a no-fly cruise holiday. In addition to the cruise line's home port of London Tilbury, guests from Dundee, Newcastle Tyne, Edinburgh Leith, Falmouth, Liverpool, Bristol and Belfast will now be able enjoy a range of exciting itineraries from a port that's close to home.
Christian Verhounig, CEO of Ambassador, said: "Ambassador has, in the short time it has been in operation, firmly established a unique premium value offering within the cruise sector. We are proud to have launched our second ship, Ambition, alongside Dundee-born Godmother Shirley Robertson and guests, partners and friends of Ambassador Cruise Line.
 "As Ambition continues her maiden voyage following her call in Dundee, so begins Ambassador's regional departure programme and we're looking forward to offering guests from Dundee the warmest welcome at sea in the months and years to come."
 Rob Mason, Head of Cruise at Capital Cruising, said: "We are excited to welcome Ambassador's Ambition cruise ship into Dundee as we kick off our busiest cruise season yet both on the Forth and the Tay. Cruise in Scotland is increasing in popularity each year and ports like Dundee offer the perfect regional location for people who can depart from here and cruise directly to many brilliant destinations. Our congratulations to Shirley Robertson, a local Dundonian, as she becomes Godmother to Ambition."
-ENDS-