Forth Ports rolls out innovative Health & Safety system across all ports
Friday 14th June 2019
Forth Ports rolls out innovative Health & Safety system across all ports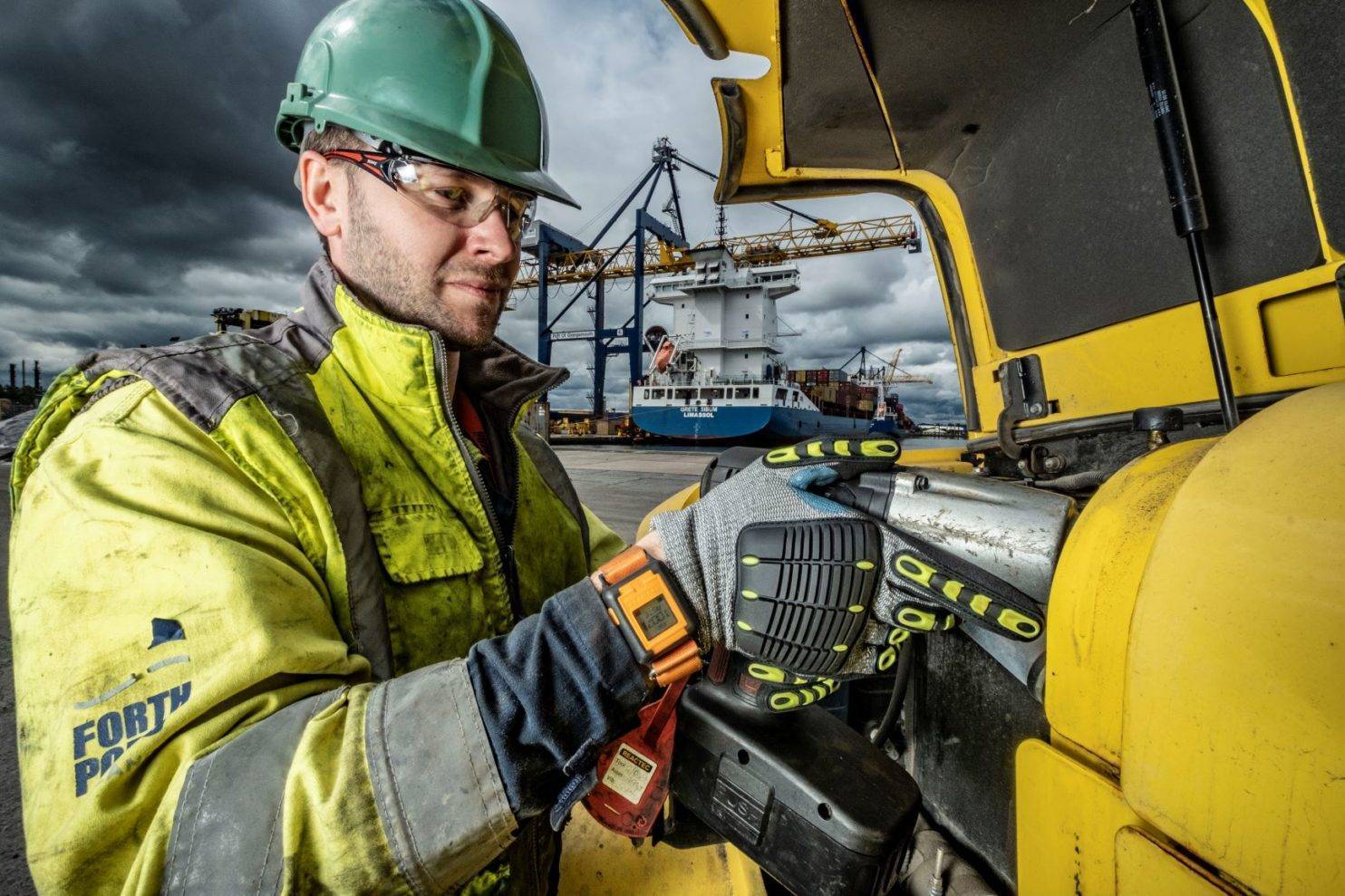 Forth Ports, one of the largest Port Groups in the UK, has rolled out Reactec's innovative wearable system which monitors the vibration exposure experienced by power tool users to reduce the risk of developing the incurable HAVS* condition.
The investment of around 100 HAVwear watches, to upgrade their existing Reactec HAV management technology, demonstrates Forth Ports' continued high level of commitment to Health and Safety across their business. HAVwear, is a wearable wrist worn device that determines in real time an individual's exposure to vibration during every day use of power tools which are used at the ports.
Forth Ports own and operate eight commercial ports in the UK – Tilbury (London), Grangemouth, Dundee, Leith, Rosyth, Methil, Burntisland and Kirkcaldy – and implements a 'Safety F1rst' culture at all levels across the business to protect employees, customers and visitors.
Forth Ports has its own in house engineering teams who maintain port equipment including very large container cranes, straddles carriers and fork lift trucks. The Reactec team supported the implementation of the HAVwear watches and provided onsite train the trainer sessions to allow instructions to be disseminated across the group. The tools used across the business range from small battery screwdrivers to impact wrenches, with grinders, hammer drills and many other tools in between.
Dr Derek McGlashan, Group Health, Safety & Environment Manager for Forth Ports said: "As a major employer across the UK, the health and safety of our workforce is at the core of our values with safety being our top priority. We have worked with Reactec for a number of years, reviewing and commenting on their scientific studies and have been impressed with their commitment to seeking innovative ways to reduce the risk that over exposure to vibration can cause people in the workplace. Our roll out of HAVwear is now complete and the feedback from our engineering teams has been positive.
Sadly, all too often in Safety we focus on events that have occurred, this is one of a number of pro-active actions we continue to invest in to ensure the health and wellbeing of our employees to prevent them being injured at work. This system fits neatly into our Safety Management System and our existing Occupational Health Surveillance Programme. Where employees are potentially exposed to vibration, all organisations should take vibration management and monitoring seriously, as the impact of poor vibration management can have life changing consequences for tool users."
Jacqui McLaughlin, Chief Executive of Reactec said: "It's great to work with Forth Ports who have a strong safety culture across their ports. With HAVwear Forth Ports can now confidently determine real time vibration exposure which will ultimately help reduce the risk of their workforce being exposed to HAV and developing the incurable HAVS condition. We designed and launched HAVwear three years ago to ease the assessment of HAV exposure and help employers reduce the risk faced by a workforce using vibrating tools and in recent published research in the International Journal of Industrial Ergonomics** our data has been independently validated." (**see notes to editors for more).
Launched in 2016, HAVwear is a wearable wrist device that monitors in real time an individual's exposure to vibration when using power tools. Reactec's analytical platform provides cloud-based reporting which allows dynamic risk assessment and exposure reduction. HAVwear has enjoyed significant sales since its launch and is in use by a number of leading companies in the UK, including British Airways, Murphy Group, Morgan Sindall, Balfour Beatty, the Environment Agency, Siemens and Babcock. Reactec is also targeting other industry sectors both in the UK and internationally.
* Hand Arm Vibration Syndrome (HAVS), which is also known as Vibration White Finger, is one of the most common industrial diseases in the UK. The condition is usually caused by the prolonged use of power hand tools, whose vibrations can damage the blood vessels, nerves, muscles and joints of the hand, wrist and arm. 300,000 people in the UK suffer from the condition, for which there is no known cure, only prevention.
14 June 2019