Innovative training suite opened for veterans at The Port of Tilbury
Friday 12th October 2018
Innovative training suite opened for veterans at The Port of Tilbury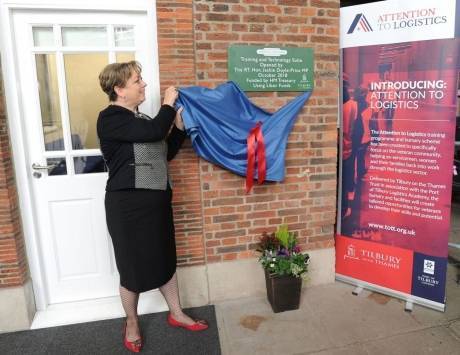 NEWS RELEASE
12 October 2018
Innovative training suite opened for veterans at The Port of Tilbury
A state of the art technology suite was opened today by Jackie Doyle Price MP (12 October) at the Port of Tilbury. Located within the old railway station of the London Cruise Terminal, the Training and Technology Suite includes two training simulators as part of the facilities designed to support the veteran community with training in the logistics sector.
The suite's two simulators – from CM labs and Tenstar – provide full simulation, including a 360 degree experience, of all the major crane and straddle operational equipment such as motion, cable and lifting systems, and lift apparatus providing operators with an enhanced learning environment featuring industrial controls and realistic working terminal scenarios.
The training suite is located within the Railway Station building at the London International Cruise Terminal, with the new training suite being a cornerstone of the planned renovation program that the Tilbury of the Thames trust are aiming to undertake to the building in conjunction with the Port of Tilbury; allowing much greater use of the building by the local community. The simulators were a hit at the recent Opportunity Thurrock event where over 2000 young people from the area came along to the London Cruise Terminal to investigate future career opportunities for them
The Port of Tilbury already has an established award winning Logistics Training Academy located within the port estate that offers training and support to the veteran community through the 'Attention to Logistics' training programme and bursary scheme which was launched last year. The programme has been created to specifically focus on the veteran community, helping ex-service men and women and their families back into work through the logistics sector. The programme is delivered by Tilbury on the Thames Trust in association with the Port of Tilbury Logistics Academy.
Liam Cordiner who took part in the course said: "What they have been running in Tilbury is exceptional. It is a stress free, relaxed and in a demilitarised environment. It is definitely something I would recommend attending if people are struggling with their career path after leaving the armed forces."
Stuart Wallace, Chief Operating Officer of Forth Ports and Chair of Tilbury on the Thames Trust said: "This is an exciting day for the Tilbury on the Thames Trust, for the Port of Tilbury and for the area as a whole. The opening of this training suite will ensure that veterans have the skills to create real opportunities in the logistics sector. Our experience shows that military service makes people well suited for careers in Logistics. With all the development planned for the port and the Thames Gateway there will be a job opportunity increase in the area."
Jackie Doyle-Price MP, said: "I am delighted to open the Training and Technology suite today at the Port of Tilbury. This is a great opportunity to deliver training and sustainable employment for veterans and their families as well as providing good, skilled staff to support the logistics industries locally. I am very proud to have played my part in making this happen. I am very grateful to the Port of Tilbury to both this training programme and to bringing the railway station into community use. We are lucky to have a major employer that makes such a strong contribution to the local community."
12 October 2018
– ends –
For more information and contact details please go to: http://tott.org.uk/attention-to-logistics/