Major milestone achieved in new ro-ro terminal construction for Tilbury2
Friday 29th November 2019
Major milestone achieved in new ro-ro terminal construction for Tilbury2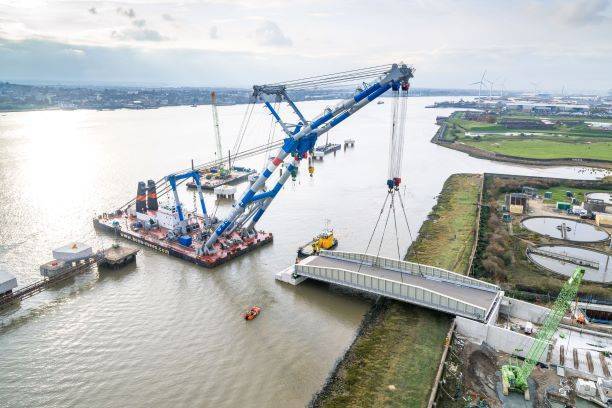 A 360-tonne bridge has been lifted into place as part of construction of a new port for the South East, Tilbury2.
The steel bridge was towed 135 nautical miles from Rotterdam to the Tilbury2 site – a process which took 24 hours – before it was lifted into place. See the video of the journey here: www.youtube.com/watch?v=jY15F6AtQR8
The approach bridge is the first of three components to be installed over the next few months to create a Roll On – Roll Off facility into the new terminal currently under construction by GRAHAM.
Peter Ward, Commercial Director at The Port of Tilbury, said: "This is another important milestone in the creation of our new port Tilbury2.
"GRAHAM's team successfully completed the link span fixed bridge installation and we look forward to seeing the bridge opened early next year."
The steel bridge, measuring 54m x 15m x 5m was chosen for its strength and durability in the marine environment.
It was transported by the HAPO pontoon H-332 and supporting tug.
The Port of London (PLA) pilots were on board when entering the Thames Estuary and remained with GRAHAM throughout the lifting operations.
Following closely behind in convoy was the MATADOR 3 seagoing floating sheerleg crane with a lifting capacity of 1,800 tonnes, again with a supporting tug.
Paul Scott, Contracts Director for GRAHAM, said: "We have hit another milestone on this major project with the arrival and installation of the approach bridge.
"It was a real team effort from the loading out at Ravestein's BV yard through to the installation.
"The approach bridge is positioned from abutments on both the landside of the flood defence and on the foreshore."
The Tilbury2 project consists of the construction of a new port terminal and associated facilities on land at the former Tilbury Power Station on the north bank of the River Thames at Tilbury.
When operational in Spring 2020, Tilbury2 will be the UK's largest unaccompanied freight ferry port, the country's biggest construction processing hub and will see the creation of a new significantly larger rail head which can accommodate the longest freight trains of 775m.
The project is central to the Port of Tilbury's £1 billion investment programme during 2012-20, which has seen it double the size of its business in the past 10 years and is projected to double the volume of cargo across the quay (from 16 million to 32 million tonnes) and increase direct employment (from 3,500 to 12,000 jobs) over the next 10-15 years.
-ENDS-