Michelle Thomson MSP visits The Port of Grangemouth to mark Scottish Apprenticeship Week
Tuesday 8th March 2022
Michelle Thomson MSP visits The Port of Grangemouth to mark Scottish Apprenticeship Week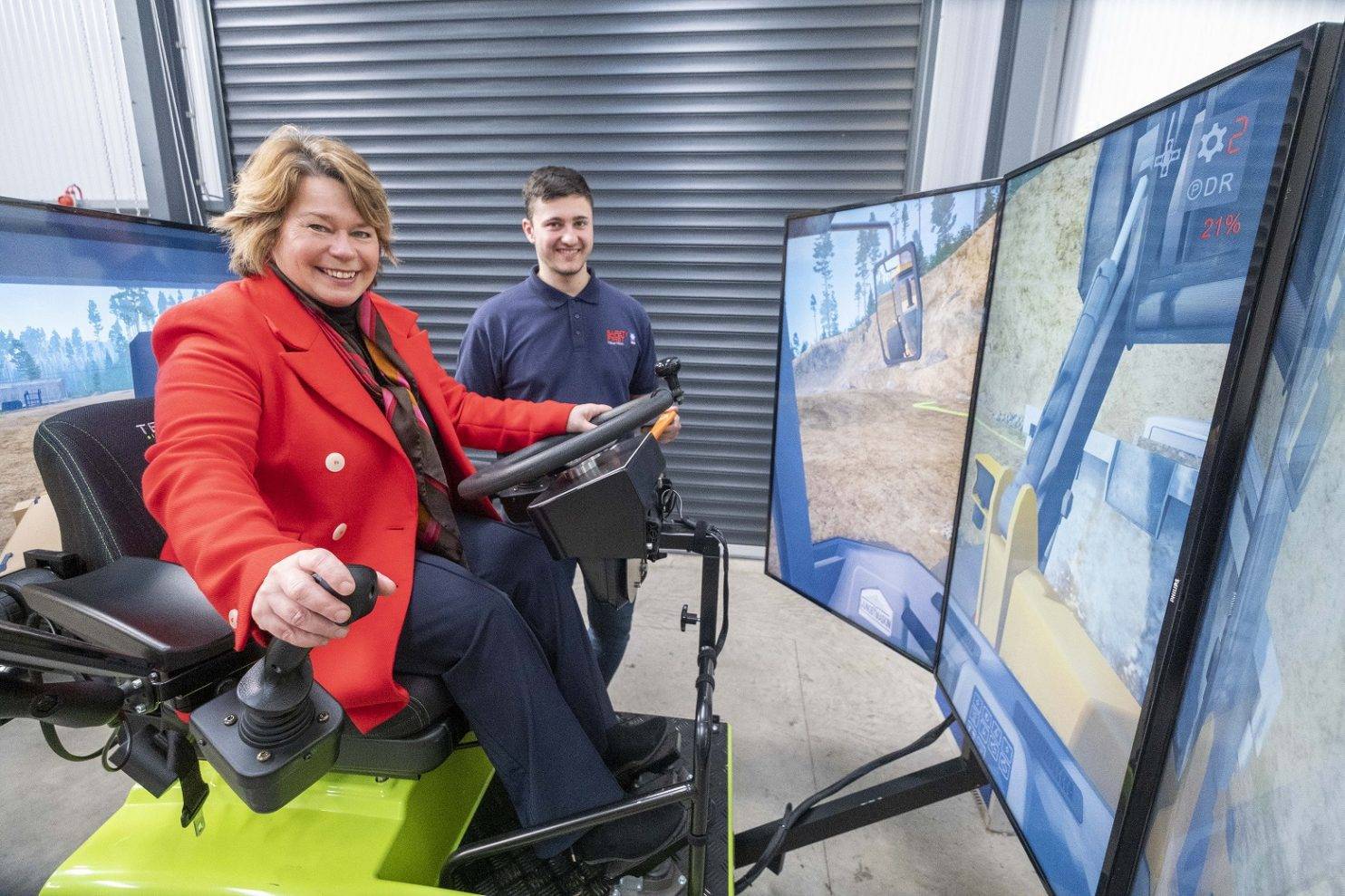 Michelle Thomson, MSP for Falkirk East, visited Forth Ports' Skills and Business Centre at The Port of Grangemouth meeting with apprentices from across the business to mark Scottish Apprenticeship Week (7-11 March).
Forth Ports delivers its Scottish apprenticeship programmes through their award-winning Skills and Business Centre located in the port of Grangemouth. The apprentices 'earn and learn' blending academic learning with practical experience delivered through simulator and virtual reality technology along with hands on experience to develop their skills over either 2-year or 4-year periods, in specialisms such as engineering, port operations, procurement, finance, management and marine.
In Scotland, Forth Ports currently employ 16 Modern and Graduate apprentices, predominantly from the Grangemouth and Falkirk area and are recruiting a 2022 intake as part of business growth plans.
The apprentices have also had the opportunity to be involved in initiatives such as the Grangemouth Net Zero Challenge delivered by Fuel Change social enterprise, bringing innovative business ready ideas to low carbon solutions to assist the business and wider industries in the transition to net zero.
Ms Thomson met four Forth Ports apprentices, who delivered a Climate Change Programme presentation. She also met with representatives from Forth Valley College and Skills Development Scotland.
The success of Forth Ports apprentice programmes can be measured by the number of former apprentices now holding senior positions across the Group.
Stuart Wallace, Chief Operating Officer at Forth Ports said: "We are very proud of our apprenticeship programmes at Forth Ports which enable people to develop the skills and experience to go on to have flourishing careers with us or in the industry. We have a successful track record of retaining apprentices at the end of their programmes, with the overwhelming majority offered full-time employment within the Forth Ports Group. There are many career opportunities with us, right across the business from roles in engineering, business and marine so I would encourage anyone thinking about a career in this industry to get in touch."
 Calum Green an Electrical Engineering Apprentice, who is from Falkirk said: "Forth Ports have a structured apprenticeship that moulds you into a competent and skilled member of the squad. Work is also tailored to you depending on where more development is required. Being an apprentice at Forth Ports, there are endless opportunities for development even beyond your trade. The Fuel Change challenge I was recently involved in is a great example of this. I feel Apprenticeships work as they combine various areas of learning from theory while at college to the practical application of this theory while within the place of work."
Michelle Thomson MSP said: "Apprenticeships are crucial in modernising Scotland's workforce. Our young people have the ability and talent to really take Scotland forward, and I am pleased to be able to visit Forth Ports and speak to some of their apprentices.  We know that young people prefer to have options available to them. Apprenticeships work for our young people, they bring a huge advantage to our economy and will ultimately help in our recovery from the pandemic. Speaking to some of the apprentices gives me confidence that the Scottish Government, the employers and educational establishments like Forth Ports and Forth Valley College, are on the right course to strengthen our economy and give our young people the best chances for their, and our future."
Skills Development Scotland Chair and Scottish Apprenticeship Advisory Board Co-Chair Frank Mitchell: "When it comes to supporting sustainable skills through workforce development or providing opportunities for young people, we know that apprenticeships work. The combination of commitment from employers and the backing of Scottish Government will ensure apprenticeships work for everyone, making a significant contribution to Scotland's recovery and productivity growth."
Forth Ports is committed to increasing the employment and career opportunities for people and communities that our ports serve utilising our Skills & Business Centres. We develop our own workforce along with that of our customers, supply chains and local communities offering a range or learning opportunities from numeracy and literacy through to Leadership development to ensure we support Scotland and the UK with developing the future skilled workforce it needs.
The Scottish Apprenticeship Week tag line is #apprenticeshipswork. See more here: https://www.apprenticeships.scot/scottish-apprenticeship-week/
8 March 2022                                      – ends –