National Apprenticeship Week – 10 Apprentices join The Port of Tilbury in full time roles
Tuesday 9th February 2021
National Apprenticeship Week – 10 Apprentices join The Port of Tilbury in full time roles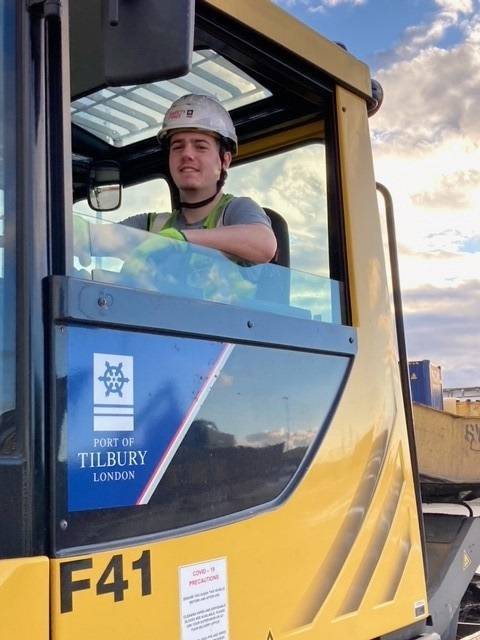 As part of the annual National Apprenticeship Week (8-12 Feb) The Port of Tilbury, London's fastest growing port, announces the appointment of a further 10 young apprentices in full time roles across the port following the completion of a successful two-year programme.
The Warehouse and Supply Chain Operative Apprenticeship programme has been running since 2016 with 26 apprentices (aged between 18 – 24) now having successfully completed this apprenticeship. The apprentices developed their skills over a 2-year period and every one of the apprentices including the 10 young apprentices who have completed this year, have been kept on in full times roles across the port.
As key workers, the Port of Tilbury has operated throughout the pandemic lockdown restrictions and has played a vital role in the smooth flow of food, medicines and constructions materials for the UK. At the same time, they have also maintained a focus on training and development to ensure that their programmes continue to support the current and future workforce of the port.
Paul Dale, Asset and Site Director at The Port of Tilbury said: "We are extremely proud of our apprenticeship programmes at The Port of Tilbury and I am very pleased to welcome the 10 young apprentices who join us in full time employment.
We have a long history of investing in our people to ensure that we have the skills for our business in the future and there are a lot of opportunities here at our busy port as we rapidly expand our facilities. Many of our apprentices go on to have long careers with us in roles including engineering, operations and finance."
The apprenticeship programmes are delivered through their bespoke award-winning Logistics Academy located at the port which has access to a state-of-the-art Technology Suite housing two simulators that are used to develop plant operation skills for example, container handling.
The Port of Tilbury, in partnership with the PLA, announced last week (1 February) that it was offering over 30 unemployed young people the opportunity to join the Port of Tilbury and Port of London Authority (PLA) in Gravesend for paid six-month traineeships this spring, as part of the Government's £2.4 billion Kickstart work programme. The opportunities available range from administration through to operations, will give 16 to 24-year olds a chance to gain important experience in a real working environment.
9 February 2021                               – ends-