New Chancellor and Home Secretary visit London's major port
Thursday 1st August 2019
New Chancellor and Home Secretary visit London's major port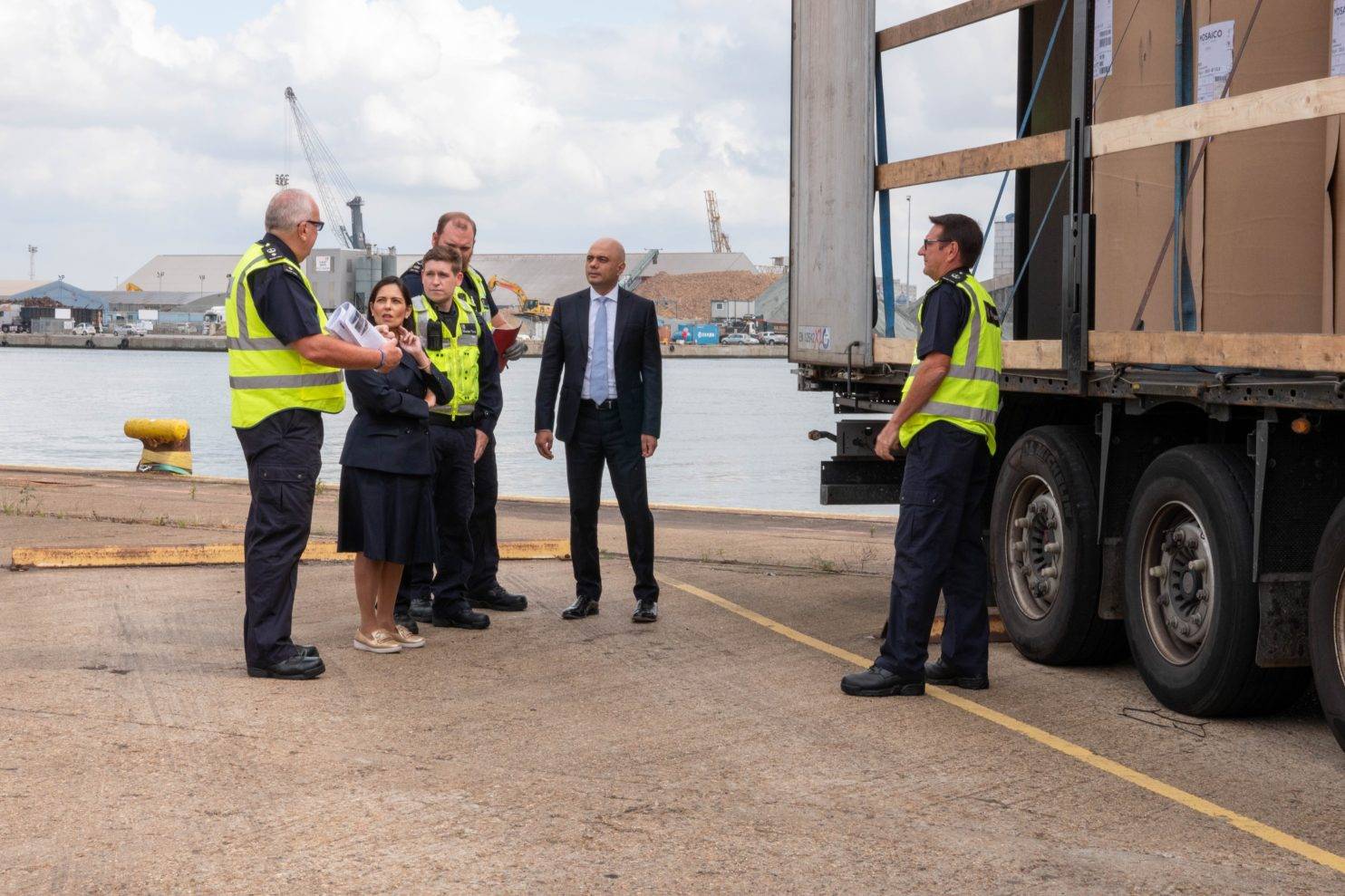 The Port of Tilbury hosted the Chancellor of the Exchequer, the Rt. Hon. Sajid Javid MP, and the Home Secretary, the Rt. Hon. Priti Patel MP, today for an overview of its expanding operations – including a new port terminal, Tilbury2 – and its contingency planning for the UK's departure from the European Union.
Construction at Tilbury2 by Graham Construction is underway on a site which was part of the former Tilbury Power Station. Once operational, in spring 2020, Tilbury2 will be home to the UK's largest unaccompanied ferry port, operated by P&O Ferries, and the country's biggest construction processing hub, with "Authorised Economic Operator" trusted trader status.
Tilbury has doubled the size of its business in the past 10 years and is projected to double the volume across the quay (from 16 million to 32 million tonnes) and triple the direct employment (from 3,500 to 12,000 jobs) over the next 10-15 years.
This growth is underpinned by the Port of Tilbury's £1 billion investment programme, 2012-20, of which Tilbury2 is a central part. Tilbury2 will include a new rail and road connection, deep water jetty and pontoon, at a projected cost in excess of £200 million.
Expansion is needed to cope with rising demand for construction materials and aggregates from the UK's building sector, imported and exported cars, as well as an increase in ferry traffic, which carries food, drink, finished products and other goods between Europe and the UK.
Sajid Javid MP, Chancellor, said: "Great to visit the Port of Tilbury with the Home Secretary and see how they're preparing for Brexit. The £2.1bn no-deal funding I've announced today will accelerate preparations at the border, support business readiness and ensure the supply of critical medicines."
"Tilbury2 will add much-needed European-facing ferry capacity at a crucial time for the UK economy," commented Carole Cran, Chief Financial Officer of Forth Ports Group (owner of the Port of Tilbury), after hosting the Chancellor and the Home Secretary.
"In addition, our existing port infrastructure and experienced staff stand ready to flex in order to provide greater resilience to vital pan-European supply chains in preparation for the UK's departure from the European Union, utilising the latest technology and streamlined border processes in support of continued market demand created by business growth.
"Tilbury2 is a significant part of the Port's £1 billion investment strategy as we look to provide the next generation of logistics facilities to equip Britain to take advantage of new business opportunities and cement existing trading relationships."