North Sea Container Line launches new direct Norway service at LCT
Wednesday 16th September 2020
North Sea Container Line launches new direct Norway service at LCT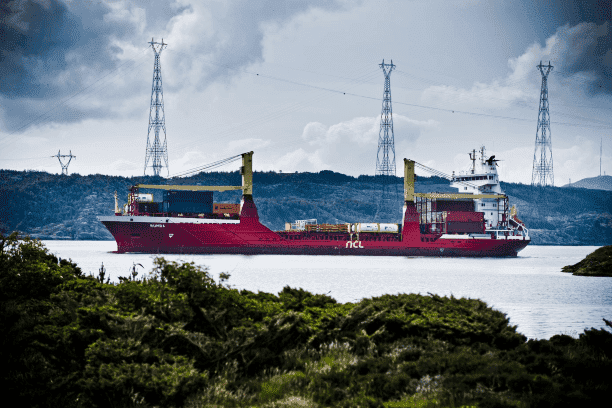 NCL has confirmed that it will commence a new, direct weekly container service from Norway to the UK on 23 September when MV "Rumba" will make its first call at London Container Terminal, Tilbury.
The service, both southbound and northbound, will link around 15 ports on the west coast of Norway directly with the UK, from Egersund in the south to Tromsø in the north. With a fixed weekly schedule and fast transit times, NCL will offer a wide range of line equipment from its fleet of 1800 containers which includes 20ft, 40ft and 45ft dry and reefer containers.
The concept behind the new service is built firmly around the desire to offer a more cost effective and environmentally friendly alternative for the transport of fish from the west coast of Norway. "First and foremost, the original ambition of NCL was to move fresh salmon off the roads and provide a route from the west coast of Norway directly to the heart of the UK market.
After working on this project for some time, it is clear that there is also a healthy demand for a variety of other products between Norway and the UK commented Bente Hetland, Managing Director of NCL. "Our investment opens many doors for NCL and provides the market with a much-needed containerised solution whilst allowing us to link and further develop our other existing services from Rotterdam, Hamburg and Bremerhaven into Norway," continued Hetland.
It is expected that the service will be able to achieve cost savings in the region of 25%-30% compared to truck between the west coast of Norway and the UK.
John Good Logistics, whose co-operation with NCL extends more than 15 years, will provide a full liner agency service in the UK including sales & marketing, vessel agency and operations and UK haulage. "We are delighted to have the opportunity to further develop the NCL brand in the UK and strongly believe in this new concept which will appeal to many customers on a range of different levels. Although we will have a clear focus on reefer cargo, it has already become very apparent that there is a pent up demand for dry cargoes suited to shipping in containers," added Alan Platt, Chairman of John Good Logistics.
The choice of London Container Terminal was determined by its excellent geographical location, its reefer and short sea expertise along with its recognition as Britain's Greenest Port.
 Commenting on the new service, Ross McKissock, Asset Manager from London Container Terminal said: "This is great news for London Container Terminal as we start NCL's new and direct connection to Norway this month. Our excellent, Brexit-ready, facilities at LCT provides a fast, low carbon and cost-effective alternative to trucking, showcasing the major benefits of short sea routes.  We are pleased to be working with NCL and John Good to help bring this concept to market and we look forward to supporting users of the service to optimise their supply chains into the UK's largest Reefer cargo and food market in the South East."
16 September 2020