One million tonne wheat delivery milestone for Kirkcaldy Harbour
Monday 13th November 2023
One million tonne wheat delivery milestone for Kirkcaldy Harbour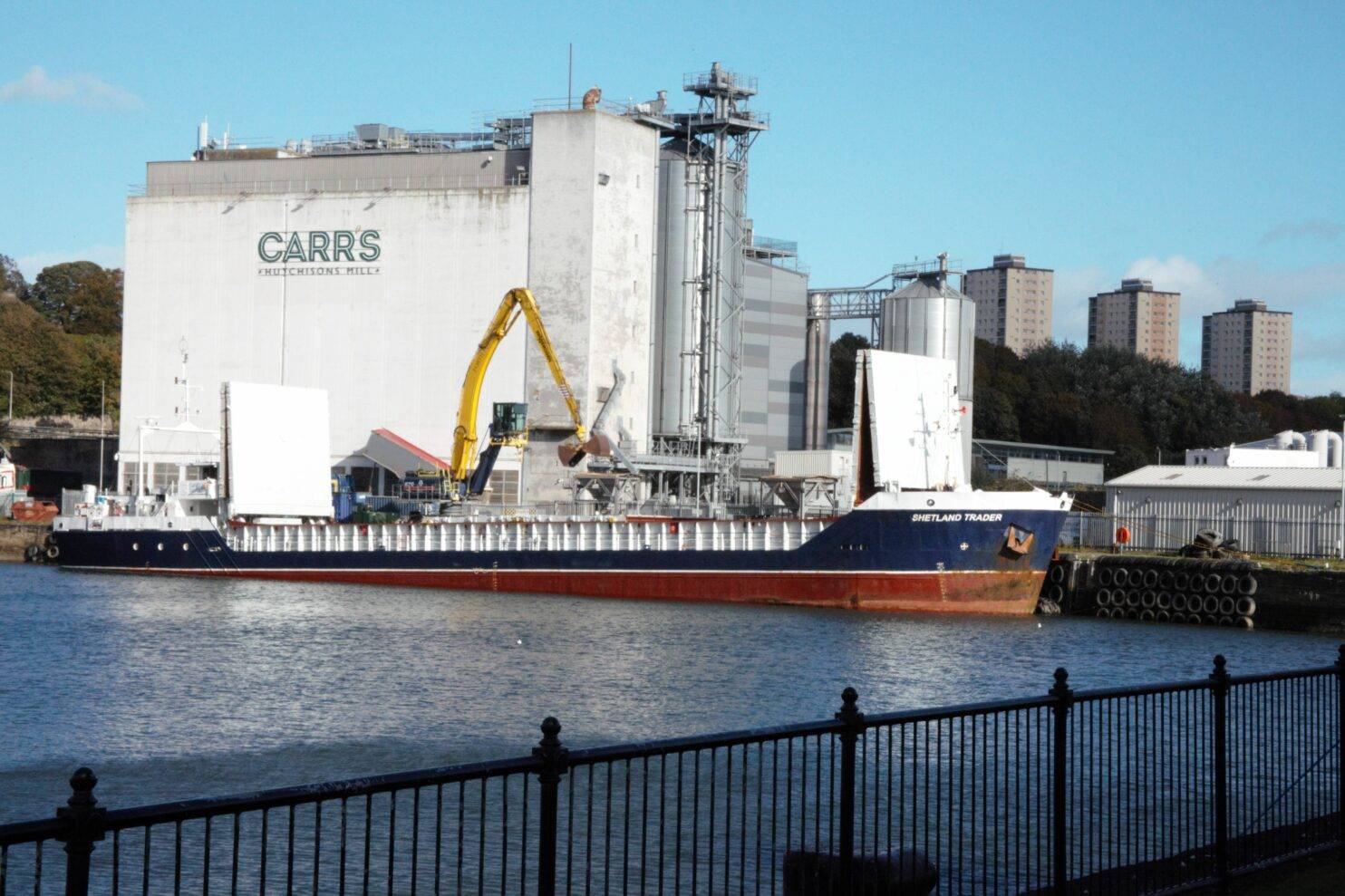 Carr's Flour Mills and Forth Ports, have reached a significant milestone as over one million tonnes of wheat – enough to bake around 2.5 billion loaves of bread – have been delivered by ship into the busy harbour since 2011.
This landmark achievement was reached earlier this month with the arrival of the latest wheat delivery on board the Shetland Trader cargo ship.
Moving wheat by 506 ship journeys into the Fife port in the last 12 years has removed around 70,000 truck journeys in and out of the Kirkcaldy mill, which is a substantial environmental benefit due to the reduction in road traffic and also a significant reduction in carbon emissions.
The wheat shipped in by water is enough to bake over 2.5 billion loaves of bread which, laid end to end, would be enough to reach to the moon and back, or around the world more than 15 times! 2.5 billion loaves is enough bread to make around 32.5 billion sandwiches.
The high-quality UK grown wheat is delivered into Kirkcaldy Harbour, which is owned and operated by Forth Ports, from Dover in Kent, and discharged directly into Carr's Flour Mills' state of the art mill.
The harbour was re-opened to commercial traffic in 2011, with the help of a Freight Facilities Grant from Transport Scotland. The port is owned and operated by Forth Ports, with all the shipping organised by Carr's Flour Mills, to bring high quality milling wheat from the UK and Europe direct into the Kirkcaldy Mill. There has been a considerable programme of investment in the facility, with Carr's Flour building new silo storage and infrastructure and Forth Ports providing discharge equipment, fendering and dredging at the harbour.
Andy Lamb, Deputy Port Manager at Kirkcaldy Harbour, said: "This is an important milestone for Carr's and the Harbour as it demonstrates the success of a quayside milling facility with direct access to regular shipping activity. Coastal shipping delivers a greener transport alternative with shipments being over 10 times more carbon efficient than road deliveries, aligning with our commitment to achieving net zero by 2042. We have exciting plans in place for Kirkcaldy Harbour to ensure that it can handle even larger cargo vessels to further increase efficiency."
Carr's Flour Mills Ltd Wheat & Supply Chain Specialist, Julius Deane, added:
"It is a great pleasure to see that we have reached this milestone, especially with the challenges of Covid lockdowns. Having direct access to vessels bringing wheat into our mill really helps us efficiently supply consistent high-quality flour to our many customers, as well as reducing our carbon footprint. We are pleased to have a strong working relationship with Forth Ports, Forth Pilots, Leith & Granton Boatmen, W Knight Watson and Cargo Mariners to make this operate smoothly, and we are looking forward to soon being able to bring larger vessels into the Kirkcaldy harbour."
13 November 2023                          – ends –