Port of Rosyth welcomes new Liebherr Harbour Mobile Crane
Monday 14th January 2019
Port of Rosyth welcomes new Liebherr Harbour Mobile Crane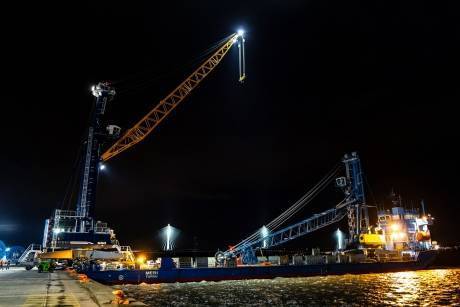 PRESS RELEASE
14 January 2019
PORT OF ROSYTH WELCOMES NEW LIEBHERR HARBOUR MOBILE CRANE
The Port of Rosyth, Scotland's best connected port, has welcomed their new Liebherr multimillion pound mobile harbour crane (model LHM 550) as part of a major investment programme at the port for bulk handling primarily for Cefetra.
Liebherr is one of the world's leading port crane manufacturers and this new crane is a state of the art mobile harbour crane with a powerful transmission and advanced electronics for bulk handing.
The 439 tonne crane arrived on board the MV Meri over the festive period and was rolled off the specialist vessel directly onto the quayside during slack tide [NB: see images and timelapse video with this release]. The crane operators at the port have been fully trained and the crane is now in operation.
Derek Knox, Senior Port Manager, Rosyth, said: "This is a great start to the new year for the Port of Rosyth. The new Liebherr crane is supporting our growth plans for the port and will be used primarily for bulk handling for Cefetra who have chosen Rosyth as their Scottish argi-hub. We have many Liebherr machines across the business due to their excellent reputation in crane technology and proven track record of providing reliable equipment to meet the demands of our cargo operations."
Link to timelapse video of crane being installed: https://vimeo.com/310590943/ce17a88602
Link to animation of the Cefetra animal feed facility being built: https://vimeo.com/303731072/8d2703330d
14 January 2019
– ends –