Port of Tilbury celebrates employee success at annual awards event
Tuesday 1st May 2018
Port of Tilbury celebrates employee success at annual awards event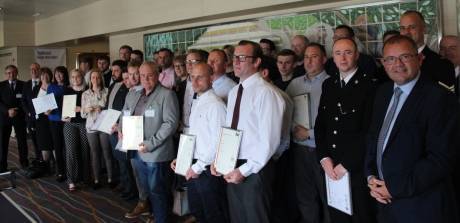 PRESS RELEASE
1 May 2018
Port of Tilbury celebrates employee success at annual training and development awards
The Port of Tilbury hosted its annual awards event on board the Cruise and Maritime ship the Magellan. The cruise ship, which is a regular caller at the cruise terminal, was the perfect venue to celebrate and acknowledge the hard work that many of the port employees have undertaken during the past year.
The commitment that training and development requires from an individual, who has a day job too, can take personal and family time and these awards recognise this dedication and achievement. Over 652 courses have been delivered in the past year with 2327 people taking part. With over 100 apprentices successfully completed or currently undertaking training at the Port of Tilbury Logistics Academy, the port has much to celebrate in the creation of the skilled workforce of the future.
Work experience and careers support within the Port has also been part of the commitment made by the team at the Logistics Academy – with a very strong focus on working on initiative in support of our local schools and colleges.
Forth Port's investment into training and development and connections within its communities is part of ensuring that the ports and logistics sectors have a prosperous and successful future.
Commenting on the awards event, Paul Dale, Asset and Site Director at the Port of Tilbury said: "Our congratulations to everyone at the awards ceremony. This is a fantastic result and the training model delivered through our Logistics Training Academy in Tilbury is to be celebrated. The year has resulted in so many people achieving qualifications across a broad skill set covering warehousing, plant operations, Police training, RTITB, ILM, National Diplomas, leadership and management and apprenticeships.
And it's not just at Tilbury, we are pleased that this training model is now being mirrored in the building of a new training academy at the Port of Grangemouth. My thanks to the Cruise and Maritime team for their great hospitality on board the Magellan."
1 May 2018
– ends –