Port of Tilbury thanks local communities as Fort Road reopens
Monday 6th July 2020
Port of Tilbury thanks local communities as Fort Road reopens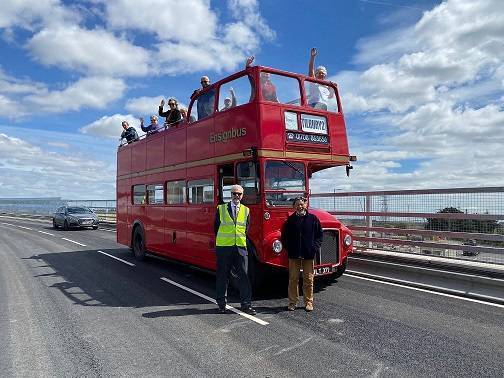 Fort Road and the new Fort Road Bridge in Tilbury reopened at the weekend (4 July) following the successful completion of construction works as part of the Tilbury2 port development. First over the new bridge were the Tilbury2 community group who enjoyed an open top bus ride over the bridge to mark the official opening.
The road was closed in late March as the existing bridge required to be extended to accommodate the new road and rail link to the Tilbury2 port. Contractors GRAHAM completed the works with only a minor delay due to the challenges and restrictions faced during the COVID-19 lockdown.
Thanking the local communities for their support during this road closure, John Speakman, Senior Asset Manager from the Port of Tilbury said: "The reopening of Fort Road and the new bridge is another milestone in the development of our new port, Tilbury2. The local communities have been incredibly supportive during these works and we know that the closure of this busy road will have impacted on people's regular journeys over the past few months.
Our own port staff have also had to use the diverted route so the reopening will be of great benefit to many people. I want to express my thanks to the local communities for their patience and continued support as we build this new port in Tilbury. I also want to thank the team from GRAHAM who have delivered this new bridge during these challenging times."
As part of the road and bridge works, the team from GRAHAM delivered the new rail works, pavements, cabling and electrical connections, kerbing and fencing.
Leo Martin, Managing Director of the civil engineering division at GRAHAM, said: "It is with great pleasure that we announce the reopening of Fort Road with the new Fort Road Bridge, which marks another milestone for Tilbury2. Our team have worked incredibly hard to minimise the timescale of the road closure during the project and even in light of COVID-19 restrictions we have managed to deliver the works with only a minor change to the original programme.
"The team at GRAHAM would like to thank all the local communities surrounding the Port of Tilbury for their patience and cooperation during the road closure. The new port will bring significant benefits to the region and we look forward to it being showcased in action in the coming months."
The road and bridge works are important as the expansion is needed to support the new port Tilbury2 with rising demand for construction materials and aggregates from the UK's building sector, imported and exported cars, ferry traffic carrying consumer goods, and perishables (food and drink) between Europe and the UK.
6 July 2020                                        – ends –