Training Academy construction begins on site at The Port of Grangemouth
Thursday 12th April 2018
Training Academy construction begins on site at The Port of Grangemouth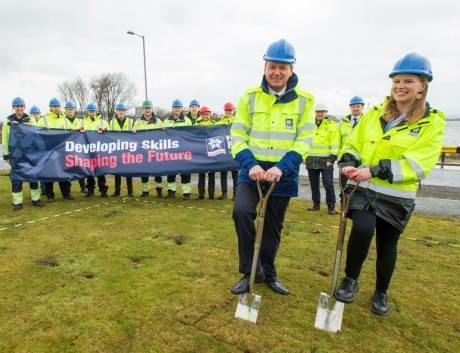 PRESS RELEASE
12 April 2018
FORTH PORTS OFFICIALLY MARKS THE CONSTRUCTION OF NEW TRAINING ACADEMY IN SCOTLAND
Forth Port's Chief Executive was joined by apprentices, graduates and Skills Development Scotland for a 'turf-cutting' ceremony to officially mark the start of construction of a new, purpose built, Training Academy located within the Port of Grangemouth, Scotland's biggest port.
The Training Academy is being built to ensure that the right skills are in place to support the future growth of the business and sustainability of the ports, as well as providing opportunities and flexibility for employees to broaden their skills and enhance their careers and job satisfaction.
Charles Hammond, Group Chief Executive from Forth Ports was joined at the event by Forth Ports 11 apprentices and three graduates along with Kristine Hale, Employer Services Manager from Skills Development Scotland.
The 420 m sq. Training Academy will provide additional in-house facilities for equipment skills training and new classrooms for safety and soft skills programmes – as well as expanding the existing training and education offering to customers and tenants.
Following a tender process, Bathgate based CM Steel Buildings Limited has been appointed to design and build the Training Academy with the completion expected to be at the end of this year.
This is a key strategic investment in Forth Port's long term focus on skills, qualifications and personal development for all employees across its Scottish operations including the Ports of Dundee, Leith, Rosyth and Grangemouth. Forth Ports also has an award winning Logistics Academy located at its port in Tilbury on the Thames.
Commenting on the ceremony, Charles Hammond, Group Chief Executive at Forth Ports said: "This is an important investment for Forth Ports as we begin the creation of a specialist training academy in Grangemouth to continuously develop and enhance the skills of our current and future workforce. People are key to our business's success and with this new facility, not only will individuals benefit, but so will our customers. In our 50th year of operation as Forth Ports, the Academy will also support the work we do with schools, colleges and local community projects."
12 April 2018
– ends –