Vision unveiled for a Forth Green Freeport to deliver Scotland's green growth ambitions
Monday 20th June 2022
Vision unveiled for a Forth Green Freeport to deliver Scotland's green growth ambitions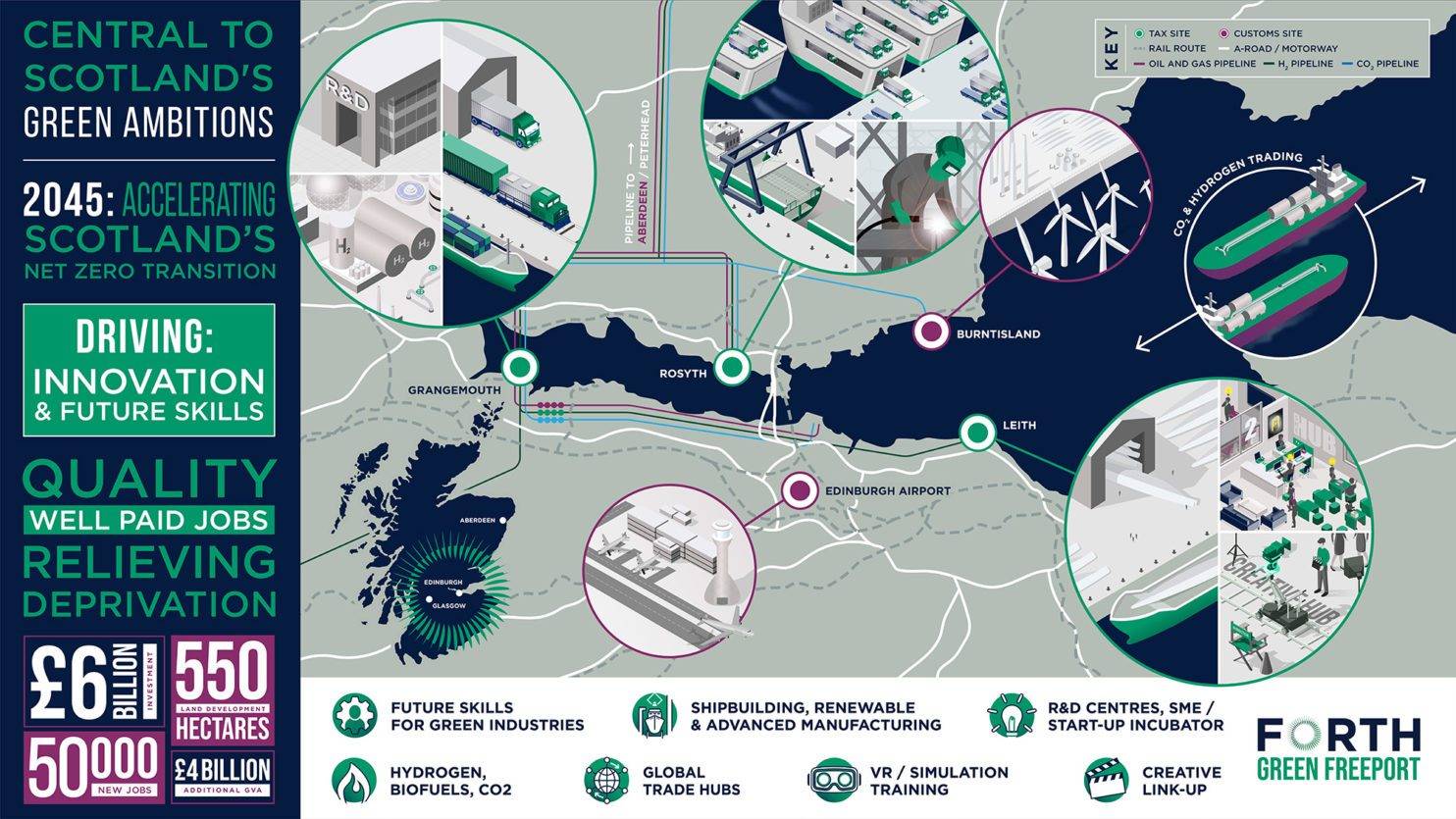 Forth Green Freeport will act as a catalyst for the re-industrialisation of Scotland, creating economic development for the whole of the country
Delivering a just transition to Scotland's net zero targets
Potential to create 50,000 new green jobs
550 hectares of development land
Local jobs in communities of high deprivation will support levelling up
A Skills Accelerator Fund focused on skills development for young people and harder to reach communities
Unlocking £6 billion of private and public investment into productive and resilient industries
Generating a £4 billion boost in GVA (Gross Value Add)
Built on a collaboration by committed partners who share the vision for a green growth corridor in the Forth Estuary. All partners are committed to the Fair Work principles and pay Real Living Wage.
A visionary bid for a Forth Green Freeport for Scotland which will re-industrialise the nation and create large scale economic development has been submitted today (20 June) by a public and private sector consortium led by Forth Ports Limited. The bid has the potential to generate 50,000 new green jobs and act as a catalyst for new green technologies and renewable energy manufacturing, unlocking £6 billion of private and public investment for Scotland.
A Forth Green Freeport will encourage global companies to continue to choose Scotland as a place to invest at scale through the economic incentives offered to businesses within the Green Freeport. The bid encompasses three key ports on the Forth (Grangemouth, Leith and Rosyth); industrial facilities and logistics centres along the north and south shores of the Firth of Forth; and Edinburgh Airport. Together they create an ambitious and attractive green investment zone which is focused on the Forth but will have a much broader impact across Scotland.
Led by Forth Ports, the bid consortium comprises both private and public organisations who together can deliver the bid's vision, alongside leading further and higher education providers. The bid consortium include:
Babcock
Edinburgh Airport
Falkirk Council
Fife Council
INEOS
Scarborough Muir Group
The City of Edinburgh Council.
Scotland has 20 years to deliver national decarbonisation to achieve net zero by 2045 and a credible plan to reduce the current emissions intensity of the Forth is vital. Investment is required to reduce emissions across the country through innovations in offshore wind manufacturing, alongside biofuels and hydrogen manufacture. The Forth Green Freeport can drive growth in two major areas of advanced manufacturing: the manufacture of offshore wind turbines and the innovative shipbuilding and energy systems modular manufacturing at the Babcock sites in Rosyth which, together, will have a far-reaching positive impact across the whole of Scotland.
The bid's partners are confident that a Forth Green Freeport can be the driving force of this plan and will deliver this radical transformation for the Firth of Forth and Scotland.
The bid identifies strategically located tax and customs sites, which span 550 hectares in Grangemouth, Leith, Rosyth, Burntisland and Edinburgh Airport. This will increase trade through Scotland's sea and air gateways and support the growth of trading businesses across the Firth of Forth and at sites spread north, south and west of the estuary. These locations are the heart of Scotland's international trade, with goods representing 30% of Scotland's Gross Domestic Product (GDP) flowing through Grangemouth alone.
The sites are connected through excellent transport links, including five bridges (Kincardine Bridge, Clackmannanshire Bridge, Queensferry Crossing, Forth Road Bridge, and the iconic Forth Bridge), 138 rail routes, and motorways which link the three tax sites – Grangemouth, Rosyth, and Leith – with other strategically important areas in Scotland.
Charles Hammond OBE, Chief Executive of Forth Ports Group, said: "The Forth is Scotland's most prized trading and industrial asset and a Forth Green Freeport enables Scotland to reduce emissions while creating technologies and jobs for the future. It will attract billions of investment for renewable offshore wind and hydrogen manufacture, enabling industrial decarbonisation and a reliable, clean energy supply with rapid distribution and export potential. Scotland has just over 20 years to deliver national decarbonisation and our bid provides an unmissable opportunity to deliver this in support of the country's net zero ambitions.
 "Our vision is for the Forth Green Freeport to reindustrialise Scotland and spread the benefits of trade widely into the communities that need it the most, through the establishment of a green growth investment corridor creating 50,000 jobs in renewable energy, green manufacturing and alternative fuels. These jobs will not just be in Grangemouth, Leith and Rosyth, but in Glasgow and Edinburgh; the Lothians, Stirling and Falkirk; and Dunfermline and Kirkcaldy.
 "This is a true partnership of private and public sector organisations who share the vision for the Forth with a bid that will benefit the whole of Scotland. It will help establish the Forth as the key industrial site for supporting offshore wind deployment in the North Sea, then build on these strengths to service demand for renewable energy technologies in global markets.
 "Our team already has a track record of successfully delivering a freeport in England; we have unlocked large, undeveloped industrial sites; and we have credible investors lined up to deliver the innovation required for inclusive and sustainable growth in Scotland's economy."
The bid is supported by Falkirk Council, Fife Council and the City of Edinburgh Council who will all continue to play an integral part in the preparation of the Forth Green Freeport and, if successful, its eventual delivery.
Commenting on this Cllr Cecil Meiklejohn, Leader of Falkirk Council, said: "The Forth Green Freeport has the aims and objectives of regeneration, high-quality job creation, decarbonisation, a just transition, trade and investment, and innovation at its heart. It presents an opportunity for the governments to bring forward transformational change to the communities along the Firth of Forth. These are communities that have long felt the impact of carbon intensive industries and the decline of traditional industries, and we, along with our partners are committed to ensuring that this transformation occurs as a priority."
 Cllr Altany Craik, Spokesperson – Finance, Economy & Strategic Planning, Fife Council said: "The work undertaken to date ensures that once more, Fife is being promoted as a prime investment location within Scotland. This is consistent with the work we continue to do within our local communities to realise regeneration and investment in our communities. I welcome that Rosyth, Burntisland and other strategic sites within the proposed Green Freeport outer boundary including Longannet, support the bid for this important economic designation. The areas identified provide scope for inward investors to locate and for existing businesses to expand or to diversify.  The outer boundary area identified to support the proposed Green Freeport sites provides within Fife, important links via the M90, A92 and Fife Circle rail network into Mid Fife. Highlighting this and aligning investment activity with the 2021 Mid Fife Economic Action Plan and Mid Fife Economic Prospectus will ensure that together, we maximise benefits from the prospective Forth Green Freeport designation."
 Cammy Day, Council Leader, the City of Edinburgh Council said: "This is about pushing for sustainable, inclusive growth in the North of Edinburgh and our economy as a whole. Our long-term investment in the tram extension to Newhaven is already unlocking swathes of north Edinburgh for development and regeneration. Our £1.3 billion green regeneration of Granton is creating a brand new waterfront community and cultural hub, with jobs and thousands of net zero homes.
 "If a Green Freeport to Leith and a customs site at the airport are brought forward, we will continue to work to make sure North Edinburgh benefits from a whole East to West corridor of net zero economic growth. We want to see this deliver transformative change for local communities with a strategy that substantially drives forward our net zero ambitions while providing pathways into work and learning for disadvantaged young people from the area. Fair work and fair opportunities are central to this bid and it is important that they continue to be central to delivery.
 "I am committed to the Council continuing to play an active and supportive role if the bid is successful. Let's work together to propel the Firth of Forth into a global hub of innovation, renewable technology and high-quality job creation which helps us tackle our city's poverty challenge as well as the climate crisis."
About the Strategic sites of the Forth Green Freeports bid:
Grangemouth
The Port of Grangemouth, Scotland's largest port and principal export hub (handling 30% of Scottish GDP) and is home to its major petrochemical cluster. The INEOS Grangemouth site has a long-standing track record of strength in petrochemicals.
Grangemouth is Scotland's busiest port, with the shortest direct freight link to Europe, handling 9m tonnes of global cargo every year. The Grangemouth tax site includes 226 hectares of under-developed land which will help to transform the port into a major logistics, manufacturing, renewable energy hub and R&D centre for the Scottish and UK economies.
 Leith
At the Port of Leith, Forth Ports has already started work on a £50 million investment in nation's largest offshore renewable energy hub alongside energy giant, bp and EnBW. The Leith tax site features 167 hectares of Forth Ports-owned, under-developed land. The tax incentives will support the redevelopment of the current port structure into the Leith Renewables Hub: an offshore wind manufacturing and marshalling site; supported by a cluster of offshore wind SMEs and a start-up incubator.
 Rosyth
The Port of Rosyth, Scotland's largest agri bulks hub, has the capacity to expand and create new trade routes to continental Europe. The Rosyth site comprises 168 hectares of underdeveloped land from landowners Forth Ports, Babcock and Scarborough Muir Group. The tax incentives will support Rosyth to become a hub for innovation in advanced modular manufacturing in offshore wind, shipbuilding and energy systems.
 Burntisland
19 hectares of land at Burntisland on the northern bank of the Forth Estuary has been ringfenced for designation as a customs site, extending the Leith Renewables Hub across the north and south shores of the estuary. This marks a deliberate 'twinning' of the Leith and Burntisland Forth Green Freeport propositions and supports the intra-authority nature of this bid. Together, this creates the largest offshore wind development area in Scotland.
 Edinburgh Airport
A 13 hectares customs zone at Edinburgh Airport's Global Air Park is designated for air-related logistics and warehousing expansion targeted at the growth markets of e-commerce, pharmaceuticals and perishables. Edinburgh Airport is the largest freight handling airport in Scotland and the largest mail handler, managing 50% of all the nation's air mail. Edinburgh Airport is an ideal location for growing trade with the USA due to shorter flight distances.