Western Harbour ground works underway for innovative homes development
Thursday 17th December 2020
Western Harbour ground works underway for innovative homes development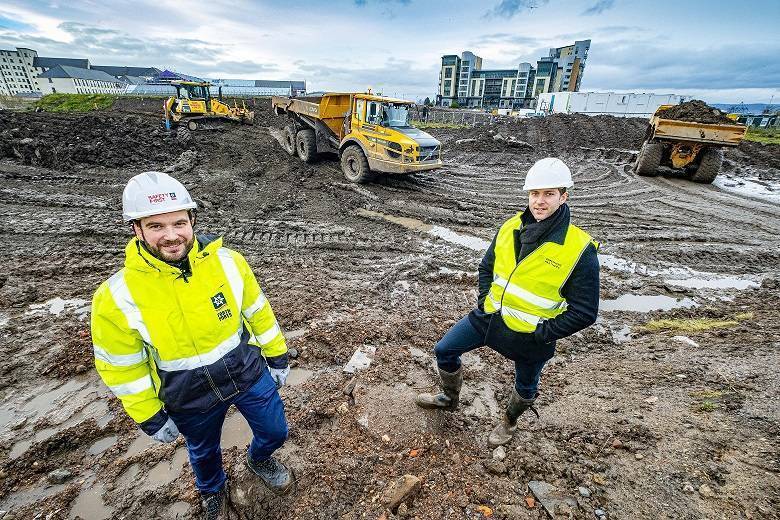 Ground works got under way at Western Harbour this month (December) as part of the next phase of investment in housing at the popular residential area
The ground preparations are being made for a further two development sites, which combined with the current two plots in this phase of the masterplan will make up a 5-acre site for the development of much needed homes for Edinburgh.
The four combined will deliver a total of 540 homes to be delivered over the next 24–30 months. These homes are planned to add to the portfolio of managed rental properties in Western Harbour, including the recently completely Harbour Gateway, already created by Forth Ports and Rettie & Co.
These new homes will add to the community alongside the new primary school which is nearing completion and is planned for opening in late 2021, together with the new tram terminus. New plans for these homes will be submitted to Edinburgh City Council to seek detailed planning approval in the New Year.
Commenting on the start of the ground works, Carole Cran, Chief Financial Officer at Forth Ports said: "It is great to see the ground works getting under way for two new plots at Western Harbour. There have been a few delays this year due to the impacts of the global pandemic, however we are confident that we will gain planning approval in January to deliver these much needed homes for Edinburgh."
Matthew Benson, Director, Development Services at Rettie & Co, said:
"Seeing activity at Western Harbour on this next phase of the housing plan is exciting. We hope that we can move to the construction phase of this new development quickly in 2021 in order that we can deliver high quality homes for residents. The success of Forth Ports' earlier managed rent homes at Harbour Point and Harbour Gateway show that there is an urgent need for new housing in Edinburgh."
17 December 2020                                     – ends –