Women in Industry Award success for Ashley Nicolson
Wednesday 4th March 2020
Women in Industry Award success for Ashley Nicolson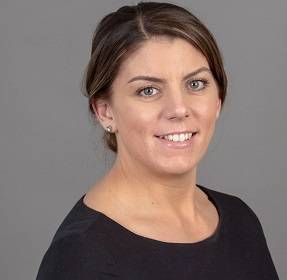 Forth Ports' Senior Harbour Master, Ashley Nicolson scooped the prestigious Women in Industry award for the first time at the CeeD (Centre for Engineering Education and Development) Industry Awards 2020.
Ashley Nicolson is part of the marine team at Forth Ports which manages and operates an area of 280 square miles of navigable waters on the River Forth and the River Tay, including two specialised marine terminals for oil and gas export.
Through her role at Forth Ports and her Vice President role at the UK Harbour Masters Association (UKHMA), Ashley is helping to drive the change required to ensure a more gender diverse workforce within the maritime sector. Ashley and her two colleagues from the marine team have committed to supporting the 'Maritime and Me' campaign launched recently by Maritime UK with the aim of encouraging women to join the industry.
This award also recognises Forth Ports' corporate values which celebrate equal opportunity and achievement in the sector. Forth Ports has committed to the UK Women in Maritime Pledge to create positive change within the organisation and the wider UK maritime sector. The port group is also working towards achieving Women in Maritime UK Chartered Company Status.
Commenting on her award win, Ashley Nicolson said: "I am extremely proud to win this award and I hope it sets a positive example for other women in the maritime industry. I have progressed my career into areas and roles never previously held by women, challenging the standards and leading by example; fully supported by Forth Ports. Along with the current industry campaigns like 'Maritime and me', there is now real momentum to deliver change and help inspire other women to excel and influence the development of the industry."
Celebrating the CeeD award success, Jackie Anderson, Group HR Manager of Forth Ports said: "We are all thrilled for Ashley and we congratulate her on this well-deserved award. At Forth Ports, we are committed to building an employment culture that actively supports and celebrates gender diversity, at all levels, throughout our organisation and throughout our industry."
Ashley supports the International Association of Ports and Harbours (IAPH) Women's Forum with their pilot mentorship programme, providing mentorship to other women in the industry. She is also UKHMA Vice President and will become president in June 2020 – becoming the first female to hold the role in the association's history, which has been in existence since 1993 and the largest organisation of Harbour Masters worldwide.  Ashley has also won the Hammerman Award.
04 March 2020                                   -ends-