Logistics Academy – East of England
Sitting on the edge of London and at the heart of the South-East, the award winning Logistics Academy East of England is the dedicated Training and Education facility at the Port of Tilbury. Opened by the then Chancellor of the Exchequer in 2014, the Academy was launched to 'create an employer-led regional centre of excellence for logistics and to raise the profile of the sector, to improve skills, to raise aspiration levels of those in the industry as well as to attract new entrants'.
Building upon the success of Port of Tilbury's role as the main logistics site for the 2012 London Olympics and Paralympics Games, the Academy forms part of the Olympic Legacy providing classroom and training facilities for employees, customers and the wider Essex community.
In 2015 the Academy continued to expand with the opening of a fully registered RTITB Fork Lift Truck Training Centre providing accredited plant, equipment and instructor courses. With the increasing use of technology within the training environment, the Academy in collaboration with Tilbury on Thames Trust opened a new Learning and Technology Suite in 2018, which houses two fully immersive plant and crane simulators.
As an employer lead initiative, the Academy is committed to working in partnership with customers, training and education providers and industry specialists offering a broad range of training and education programmes, from technical and apprenticeship through to leadership and management, including a supply chain logistics degree (in partnership with Plymouth University and the Institute of Export).
We are particularly proud of our Apprenticeship offer, which supports development of those early in their career as well as those who are more established. We offer a broad range of apprenticeship programmes including Business Administration, Warehousing, Customer Service, Port Operations, Supply Chain Logistics, Team Leader and Management. Our customer base include not only local and regional customers but national customers such GlaxoSmithKline, Astra Zeneca, Fujitsu Siemens and Lockheed Martin.
A joint partnership between the Logistics Academy and Tilbury on Thames Trust has developed the Attention to Logistics Programme, specifically aimed at supporting veterans, ex-serviceman, women and their families back into employment within the logistics sector. For more information please visit TTT LINK.
Logistics Academy Memberships and Accreditations
AELP member – Association of Employment and Learning Providers
Accredited by RTITB
SQA approved centre
BTEC approved centre
Accredited by CILT to deliver the Port of Tilbury Management Development Programme
Awards
Since it's opening, the Port's Logistics Academy has been the proud recipient of a number regional, national and international nominations/awards, in recognition of its programmes.
February 2014 – 'Business in the Community' award at the Thurrock Civic Awards
June 2014 – 'Learning for Work – National Project' Award at the National Institute of Adult Continuing Education's (NIACE) awards ceremony in London. A national award given in recognition to those organisations, "who have invested in the lifelong learning of their trainees and employees"
March 2015 – Herbert Crow Memorial Award at the Worshipful Company of Carmen annual awards in London, for the Academy's "outstanding commitment to transport training and development in SE London"
June 2015 – Highly commended at the 2015 Containerisation International Awards (CIA) in the Corporate Social Responsibility (CSR) category at the Jumeriah Carlton Tower Hotel in London. "Training is at the heart of this particular winner, creating a dedicated training academy, re-enforcing the high levels of staff retention, staff progression, and new opportunities for new employees drawn from the local population"
November 2017 – "Inspiring Career Opportunity Award" – Thurrock Education Awards for its work in helping young people explore their career potential.  Sponsored by Dubai Ports, London Gateway the award was presented in recognition for the outstanding work done by the Logistics Academy, working with young people and schools in raising awareness of career opportunities in the Port and Logistics sector.
Our training courses:
Working in partnership with our training and education providers and industry specialists, the academy offers a broad range of training and education programmes and is more than happy to work with customers to provide bespoke training solutions – just ask.
Our offering include:
IOSH Managing Safely
RTITB Forklift Truck instructor and beginners courses including re-certification
Apprenticeships – Business Administration, Warehousing, Customer Service, Port Operations, Plant Operations, Supply Chain Logistics, Team Leader and Management
First Aid & Re-certification
Plant & Equipment Simulator Training (including ship to shore/Straddle/360 excavator/shovel)
Plant and Equipment instructor lead training – Tug, Reach Stacker, MEWPS etc
Confined Space
Slinger/Signaller
Risk Assessment
Manual Handling
Personal Development programmes such as Interview skills, Presentations or project management
E-learning programmes – Health & Safety and HR compliance, Technical etc
Management Development
Team building
Psychometric Assessment
Assessment Centres
Facilities Provision:
The Academy has the following facilities available for hire (All rooms have audio/Visual and access to Wi-Fi):
1 x Large Training Suite (seats 20 in boardroom style)
2 x Medium sized Training Suites (seats in boardroom style 15)
Computer Suite (8 learning stations)
Video Conferencing facilities available
Key Contacts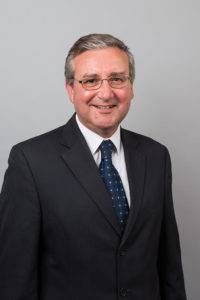 Simon Harper
Group Learning & Development Manager
Port of Tilbury London Limited
Leslie Ford House
Tilbury
Essex
RM18 7EH
Tel: +44 (0)1375 852401