Craigleith crew working on The Forth this Christmas get turkey delivered by boat
Monday 23rd December 2019
Craigleith crew working on The Forth this Christmas get turkey delivered by boat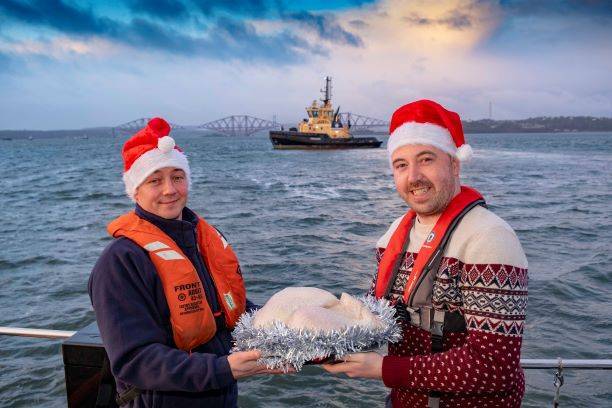 The crew manning the tug, the Craigleith, on the River Forth on Christmas Day have been assured a traditional festive dinner after the marine team at Forth Ports made a special delivery of their turkey – by pilot boat.
A three-strong crew of the Craigleith will be onboard the tug over the festive period moored close to the Braefoot Gas terminal, east of the Forth Bridge on the River Forth, to ensure the safety and smooth transit of ships using this busy waterway. Tugs are also used in situations which need firefighting and marine pollution control capabilities; however these situations are a very rare occurrence.
Each year, Forth Ports gives each of its employees across the group a fresh turkey for Christmas. In Scotland, over 500 turkeys are distributed around the ports of Dundee, Rosyth, Grangemouth, Burntisland, Methil and Leith and the teams working on the Forth and Tay Estuaries.
Commenting on the festive delivery to the Craigleith, Stuart Wallace, Chief Operating Officer at Forth Ports, said: "It's a long-standing tradition in the ports industry that employees get a turkey for Christmas to enjoy with their families. The Craigleith's crew will be out on the river and away from their friends and families this Christmas but we weren't going to let them miss out on this important custom. Our thanks and appreciation go to them and all our teams around the business who are working over the festive period."
The Craigleith is the pride of Forth Ports fleet of tugs. Launched last year, the tug was named the Craigleith in keeping with the tradition of the tugs on the Forth being named after islands in the estuary. The Fidra, Seal Carr and Oxcar tugs are the other tugs in service.
Picture: Ben Greenshields (skipper of Craigleith tug) and Theo Currie (Towage Manager from Forth Ports) onboard the pilot boat the Puma, with the Craigleith in the background
23 December 2019                             – ends –