Pontoon launch marks milestone in Tilbury2 development
Monday 7th October 2019
Pontoon launch marks milestone in Tilbury2 development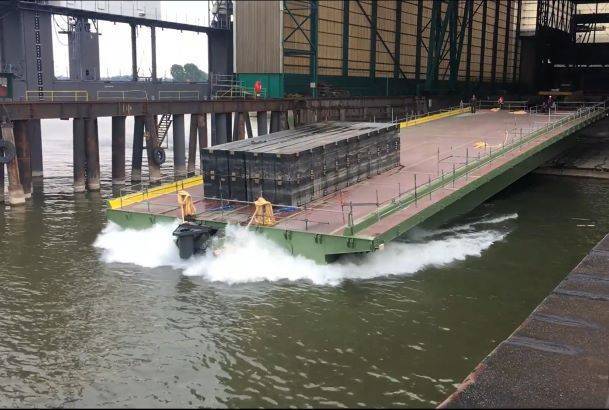 A floating pontoon used to discharge freight ferry vessels at the new Tilbury2 development at Port of Tilbury has been launched, marking a major milestone in the creation of a new multi-million pound port for London.
The pontoon, measuring 55 x 45m in dimensions, was launched from a slipway earlier this month from Ravestein BV yard in Deest, Holland. When complete the pontoon will be used to discharge freight Roll On/Roll Off (RoRo) vessels into the new terminal currently under construction by GRAHAM at Tilbury2.
The pontoon finishing works is expected to be completed in October, when it will then be towed by tug along with the linkspan bridge, ready for installation at the new RoRo terminal before the end of the year.
Paul Scott, contracts director for GRAHAM, said: "This launch is a significant milestone in Tilbury2's marine package of works that will enable the terminal's Roll On/Roll Off function to be realised.
"Once complete, the floating pontoon will provide large scale capacity for the loading and discharge of RoRo vessels at the terminal, enabling a huge increase in the volume of cargo being transported across the quay. The economic and social benefits of this scheme, not just locally, but nationally, cannot be understated and this launch is an exciting milestone in the scheme's progression."
Peter Ward, Commercial Director at The Port of Tilbury said: "The launch of the pontoon is a significant part of the creation of our new port Tilbury2 and we are pleased that the construction is on track for Spring 2020. When operational, T2 will be the largest unaccompanied Ro-Ro terminal in the UK."
The Tilbury2 project consists of the construction of a new port terminal and associated facilities on land at the former Tilbury Power Station on the north bank of the River Thames at Tilbury.
When operational in Spring 2020, Tilbury2 will be the UK's largest unaccompanied freight ferry port, the country's biggest construction processing hub and will see the creation of a new significantly larger rail head which can accommodate the longest freight trains of 775m.
The project is central to the Port of Tilbury's £1 billion investment programme during 2012-20, which has seen it double the size of its business in the past 10 years and is projected to double the volume of cargo across the quay (from 16 million to 32 million tonnes) and increase direct employment (from 3,500 to 12,000 jobs) over the next 10-15 years.
See below for two video clips from the launch.
https://vimeo.com/364233590/209e7d5124 – Film of pontoon being launched
https://vimeo.com/364233190/ce16cc0e50 – Timelapse film of pontoon coming out of hanger
7 October 2019                                           -ENDS-