Construction Hub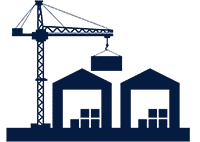 London Construction Link (LCL) is a construction consolidation solution aimed at removing HGV movements from the Capital's congested road network a collaboration between S.Walsh and the Port of Tilbury. This unusual marriage between a construction solutions provider and a well-established port operator, has created an efficient and versatile consolidation and distribution facility on the Thames. The seaport and river access combine with excellent road, rail and IT-driven storage management infrastructure, to create a facility which can store and move all kinds of construction-related materials through a number of different modes, including the river.
LCL builds upon Tilbury's pedigree as the logistics and distribution hub for the 2012 Olympics and Paralympics and central role in transporting Londoners' waste by river, and Walsh's success as the largest marine operator on the Thames.
LCL is Construction Logistics and Cyclist Safety (CLOCS) and Fleet Operator Recognition Scheme (FORS) accredited.
Furthermore, Tilbury's location makes it an excellent distribution hub for Greater London; just 6 miles from the M25 and 22 nautical miles from Tower Bridge, with dedicated barge facilities and three rail freight facilities.
In Scotland, Forth Ports Grangemouth, Dundee, Leith and Rosyth are all well equipped to support the construction industry.  Forth Ports Rosyth has extensive experience working with key infrastructure projects. The port was used as the marine and construction hub for the new Queensferry crossing. Forth Ports Rosyth handled all elements of the logistics, including heavy lift bridge sections imported from China to providing facilities for offsite fabrication. It was a major 6-year project, which has been hailed for its smooth execution. The new bridge has been successfully completed and is now a fundamental part of Scotland's infrastructure.
Forth Ports Dundee provides a variety of services to our construction customers. This has included significant investment in a new cement terminal, to support the growth of the construction industry both in Dundee and the surrounding area.
Forth Ports Leith is ideally situated to support construction projects in and around Edinburgh. Companies can take advantage of Leith's extensive laydown areas, while the proximity to Edinburgh city centre allows customers to provide just-in-time solutions for construction projects in the capital, such as the new Edinburgh St. James Centre. Whether you need to import, store, distribute or process construction products, we can provide a solution for you at Leith.