Marine & Anchorage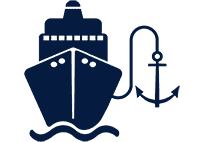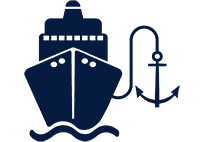 Forth Ports is the statutory harbour authority for the Firth of Forth and Firth of Tay. We also own and operate the ports of Dundee, Leith, Methil, Burntisland, Kirkcaldy, Grangemouth, Rosyth and, on the River Thames, the Port of Tilbury. Together, our integrated ports offer customers a marine and anchorage network of the highest quality.
Activity
Currently there are over 3500 ship visits per year ranging from small coasters to project cargoes, naval and VLCCs. The Forth contains numerous ports and harbours with two river terminals handling crude oil and gas. Scotland's largest container terminal and oil refinery, with jetties for clean oils, chemicals and gas are both located at Grangemouth. Anchorages are available on the Forth for passenger disembarking for the world's largest cruise liners.
Anchorages
Forth Ports Scotland offers more than twenty designated anchorages outwith the pilotage area which are suitable for large ships, rigs, and semi-submersible vessels delivering project cargoes. Within the pilotage area there are anchorages further west which provide shelter, minimal sea conditions, and deep water.We also have anchorages available on the Forth for the disembarking of the world's largest cruise liners. Our deep-water Forth Estuary anchorages are all located within Harbour Authority limits, with full VTS and Harbour Master surveillance 24/7. These vary in depth, with anchorages available in excess of 30m.
Anchorage moorings are also available on the Thames within central London at Greenwich Ship Tier, Tower Bridge Upper and George's Stair. These mooring are suitable for cruise ships, super yachts or small specialist vessels.
Conservancy
The Conservancy department maintains hydrographic surveying, aids to navigation and dredging requirements within the Forth Ports jurisdiction of the Firth of Forth and the Firth of Tay. A port authority has "an obligation to conserve and facilitate the safe use of the harbour as well as a duty of care against loss caused by the authority's negligence." (Port Marine Safety Code). Safety of navigation is paramount for compliance with the Port Marine Safety Code. Using state of the art equipment enables us to accurately measure the seafloor, giving us the ability to produce a multitude of products including charts, digital terrain models and 3D point cloud products for inspection and analysis. Having detailed mapping of the seabed allows us to target dredging operations more efficiently and effectively.
With this in-house capability we can offer services to third parties looking for high detail mapping. Forth Ports are the first non-trust port in Scotland to have mobile laser scanning capability, enabling seamless gathering of data which extends both above and below the waterline. Combining data capture methods minimises the time spent within potentially hazardous environments. Effectively mapping the seabed and managing aids to navigation contributes to maintaining a safe waterway for mariners.
Workboats
Workboats of various sizes, including rigid inflatables and barges, are available to meet all requirements, from the delivery of stores to vessel maintenance.
Personnel Transfers
Personnel transfers can be organised from several ports utilising fast enclosed ribs, launches, or vessels capable of transferring up to 200 personnel.
Layby Berthing
Berths are available in all of our Ports to serve ship owners who require a berth for short term and medium term resting locations to facilitate maintenance and urgent repairs. We also have experience in providing berths to support rigs.
Repair Facilities
Three dry docks are located at Grangemouth and Leith, as well as large fabrication yards at Methil and Burntisland. Specialised marine engineering expertise is available to be deployed at anchorage.
Forth & Tay Navigation Service
Manned 24 hours a day, 365 days a year, by a team of qualified assistant Harbour Masters and V103 certificated VTS officers, Forth & Tay Navigation Service (FTNS) is second to none, providing customers with total peace of mind. The state of the art control room monitors all shipping activity west of a line between Bass Rock and Fife Ness. The equipment available includes radar, AIS, met and tidal monitoring and recording, CCTV, and full VHF coverage up to and beyond the eastern limits of the Forth and Tay. Furthermore, a specialist detailed weather forecast is provided four times daily.
Towage
Towage is available from numerous licensed tugs at various locations on the river Forth. Sizes range from 19T bollard pull up to 120T bollard pull.  Further details are available on the Forth Estuary Towage page.
Pilotage
Forth Pilots are based at Granton. Pilotage, if requested, is available in the outer Forth and is compulsory to the west of Inchkeith Island.
Float off/Float on
Our deep-water anchorages are ideal for semi-submersible vessels to ballast down to float off and on large rigs and structures. Dundee, on the Tay Estuary immediately adjacent to the Forth, provides quayside berthing where jack-up rigs, barges, and semi-submersible rigs can berth alongside.
Offshore Mooring
Mooring buoys, for deployment in various areas around the Forth, are available upon enquiry.
Go to the Marine resources page