Inland Waterborne Freight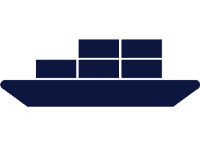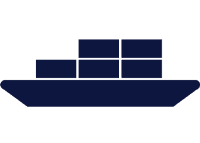 Inland waterborne freight and barging services are offered at all our ports across the Forth Ports Group to support a range of sectors. Our expertise in loading and unloading freight onto floating crafts, combined with our ability to offer tug services through Forth Estuary Towage in Scotland, means we are happy to work with customers on finding the right waterborne distribution solution.
We know that significant benefits are obtained by customers who have integrated barging as a sustainable transportation option within their supply chain, across a range of sectors.
We have long standing relationships with all the major marine operators, so are able to help you to find the right solution for your supply chain needs, whether you need to deliver heavy construction materials, perishables or lightweight parcel freight items.
Waterborne freight is a potential game changer in remodelling how city centre logistics can be done, and has worked successfully in supporting large infrastructure projects in London and Scotland. All of our ports are well located in the heart of the main consumer markets in England and Scotland.


As the main port for London, The Port of Tilbury (London) is perfectly positioned on the Thames to support customers who are looking to consider a waterborne freight option into the capital.
Significant environmental benefits are gained through carbon reduction, modal shift of lorry movements from the already congested road network and associated air quality improvements. It also positively promotes a safer pedestrian and cyclist environment in London.
We have a wealth of expertise in inland freight movements which goes back to the days when the London Docks and London Wharfs frequently received barge deliveries from Tilbury. Today Tilbury is able to offer handling services to support an array of projects, assisting in the distribution movement of containers, recyclable material, waste, spoil, construction materials, modular units and project cargo by barge along the Thames. Through our involvement in large infrastructure projects like Tideway, Crossrail & London Olympics 2012, we know that it is a cost and time efficient distribution option.
We are able to offer an end-to-end supply chain solution, creating everything from providing an efficient and versatile consolidation and distribution facility on the Thames, through to enabling just-in-time deliveries via the Thames. From Tilbury the waterborne distribution option can happily sit alongside rail and road distribution to give you a truly resilient supply chain.

On average one 1,000 tonne barge (bulk materials) movement removes 50 lorries (100 in a return journey) from the road network and generates 90% less CO2 and 3-4 times less NOx emissions.
Tilbury is 22 nautical miles from Tower Bridge or approximately 2 hours sailing via a standard bulk barge running with the tide.