Rail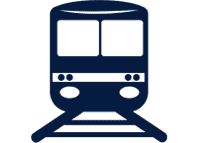 Our ports offer strategic locations for low carbon transportation solutions to the heart of the main consumer markets in England and Scotland.
Through our dedicated facilities and experienced handling services, we have helped our customers to integrate rail as part of their supply chains to deliver efficient and sustainable onward distribution solutions across a range of cargo types.

Linking up our ports across the Group is important to us. In addition to the customer specific rail services we offer, we have intermodal rail services running between Tilbury (London) and Forth Ports Grangemouth. This route services customers moving containers of retail goods, food and drink northwards while the return journey supports the Scotland export market with the movement of spirits, chemicals and fresh food.
From Tilbury we offer scheduled services to the Midlands, South West, Wales and Scotland.
Our facilities are open to any train operator to provide UK-wide rail based solutions, as well as the ability to connect to continental Europe and the International rail network through the Channel Tunnel.
Tilbury's three rail terminals provide direct access to 16 million people within 75 miles via the Essex Thameside rail corridor.
Alongside existing domestic intermodal and bulk rail flows, we are well positioned to support major retailers and e-commerce customers who need just-in-time solutions to serve their end customers.
Intermodal Container Facilities
Our railhead located within London Container Terminal (LCT) provides efficient turnaround of intermodal freight trains offering 24/7 capacity to handle maritime and domestic rail traffic in several modes: containerised, refrigerated containers, flat racks, open tops and tank containers. This terminal is located within the centre of our LCT operation, integrated within one of Europe's largest reefer ports. Our railhead at LCT is able to offer cross-dock facilities for customers looking for rail connected warehousing in a new 55,000sqft facility opened in 2019 operated by Maritime Transport.
With strong expertise in handling out of gauge and specialist cargoes, this terminal is also able to support the arrival and departure of goods in a range of containers types/sizes, or in side-loaded rail wagons.
Our Grangemouth rail facility allows customer's unrestricted access to Scotland's largest container terminal situated midway between Scotland's main cities of Glasgow and Edinburgh, with 70% of Scotland's population within 1 hours drive, with unrivalled distribution connections for rail freight connectivity. The rail line into the port runs directly into the container terminal allowing goods to be transported seamlessly between rail and vessel. The rail siding also runs alongside two 100,000sqft warehouses offering storage, and container unloading/loading services and cross-docking.
Bulk rail facility
In 2017 the port developed a dedicated bulk rail terminal at Tilbury within the existing port estate to specialise in the handling of bulk wagon trains. This eight acre site with bespoke storage areas and dedicated equipment enables the Port of Tilbury to provide a rail distribution option for the onward distribution of imported and domestic volumes, with expertise in the handling of a range of bulk and recycled commodities.
Our Tilbury rail facility allows customers unrestricted access and the potential for bulk customer to optimise on the services and expertise of the bulk terminals to provide seamless solutions for customers requiring regular rail distribution solutions but also potentially looking for rail distribution to support construction and infrastructure projects activities. The Bulk railhead has the flexibility to accommodate both offering 24/7 operations.
Forth Ports Leith and Rosyth are both ports that support a number of sectors including the bulk sector. When combining our rail capacity in Leith and Rosyth, Forth Ports is able to provide rail-linked sustainable logistics solutions for large infrastructure projects and the movement of bulk commodities across Scotland.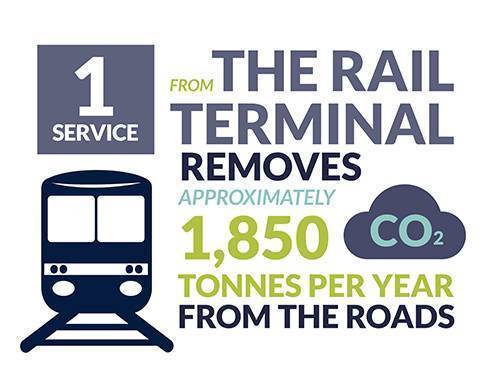 As part of our new port development Tilbury2, we are building a rail corridor into the 152 acre site, utilising the existing Riverside Terminal connection. When our new rail terminal opens in 2020 we will have the capacity to accommodate the longest contemporary freight trains – 775m in length – and loading capability from the UK's largest unaccompanied RoRo terminal and the country's biggest construction material aggregate processing terminal to handle five bulk and intermodal trains a day.
Useful downloads/links: