Decommissioning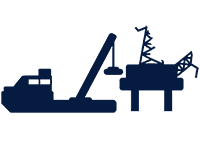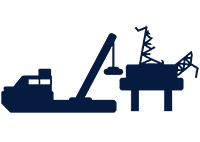 Our integrated ports offer unique capacity for large decommissioning, with Forth Ports Dundee, Forth Ports Rosyth, and Forth Ports Leith all providing decommissioning solutions.  We provide a full topside disposal and recycling solution at Forth Ports Dundee, supported by subsea pipeline and cabling expertise in the ports of Leith and Rosyth.  This creates a flexible and scalable solution, combining the facilities and expertise of 3 ports to deliver your project with optimal efficiency.
The prime facilities and geographical locations of our ports is an advantage recognised by many in the offshore industry.  Our customers have access to on-site craneage, office and staff facilities, subsea fabrication specialists, shipping agents, skilled specialist labour, and logistics support, all within short travel distances of North Sea oil fields.
The new £10 million quayside at Forth Ports Dundee delivers an industry-leading heavy-lift capability over its entire 200m length, with an ultra-heavy lift pad at one end.  Together with the existing adjacent berth, the port offers the decommissioning market 314m of quayside, a permanent 1500T quayside crane (860T at 24m), a deepwater berth and significant landside area.  Dundee is working with partners within the supply chain to ensure all service elements required for decommissioning will be available at the port.  This significant speculative investment is a sign of our commitment to enhance Scotland's decommissioning offering by increasing our capability and capacity to handle these cargoes and positions Dundee at the forefront of this market.  Forth Ports Leith is active in the decommissioning market through our tenant Dales Marine who operates the only ship recycling facility in Scotland.
Our strong core values, customer focus, professionalism, integrity and our commitment to health and safety are key to everything that we do.  We offer the capability, the capacity, and the locations: 3 ports; 2 estuaries; 1 fully integrated solution for large, topside, and heavy lift decommissioning.
Heavy lift and transportation
Marine and onshore logistics
Subsea pipeline and cabling
Fabrication
Waste management
Onshore disposal, recycling and re-use
Onshore cleaning and decontamination
Extensive open storage, laydown and warehousing
Round the clock stevedoring services
Forth Ports is a founding partner of the recently launched Forth & Tay Decommissioning Alliance. Our Port of Dundee facility offers the ideal location, logistically and geographically, to establish the UK's dedicated hub for end-to-end decommissioning. Forth Ports Dundee's strategic location, ample dockside, and portcentric infrastructure make it the ideal domestic hub for decommissioning.
For more information on the alliance and its members, please visit the links below:
Download the Forth and Tay Decommissioning Brochure