Grain & Dry Bulks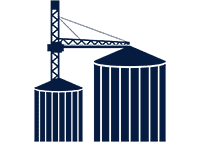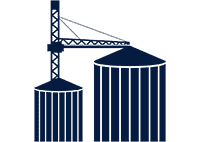 The ports of Tilbury, Rosyth, Leith and Dundee have the capability to handle a wide range of agricultural materials. Each port is equipped with a high capacity crane and landside equipment, as well as offering TASCC registered handling and storage facilities. These facilities ideally position Forth Ports to help any customers looking for a grain and animal feed supply chain solution across the UK.
With the largest Grain Terminal in the UK owned and operated by Port of Tilbury, the port is well placed to provide high speed unloading/loading services, grain storage and grain testing facilities. The port is ideally positioned to support the grain trade with a diverse range of products being imported and exported to worldwide destinations. Tilbury is also a major port for handling animal feed imports.
Our Scottish ports handle a wide variety of products to support the agricultural industry. Forth Ports Rosyth has been chosen by a major animal feed importer as its Scottish Agri-Hub and is undergoing a multimillion pound investment programme to accommodate this growth. Forth Ports Dundee is home to one of the largest grain drying facilities in Scotland which is an important asset for growers in the region. Leith handles a variety of both animal feed products and grains for the distilling industry, whilst Kirkcaldy is home to Carr's Flour Mill which receives coastal shipments from the Port of Tilbury.  We offer dry bulk handling facilities across all our ports, handling commodities such as aggregates, waste and recycled materials, and road salt.
The Bulk Terminal at the Port of Tilbury handles over 750,000 tonnes per annum of dry bulks across a range of specialist facilities onsite – supporting deep sea, coaster and self-discharge shipments. Tilbury is a key aggregate hub for the London and South East market, and this will be strengthened further through the addition of a new Construction Material and Aggregate Terminal (CMAT) as part of the Tilbury2 expansion, with access to a deep-water river berth. In addition to this, Tilbury has a dedicated rail terminal to support the onward distribution of bulk materials by rail.
Dry bulks are handled across all our Scottish ports, supported by our mobile Sennebogen fleet and a wide range of open and covered storage. We regularly handle cargoes such as construction and decorative aggregates, glass cullet and waste products, with Grangemouth and Dundee holding their own Waste Management Licenses. Our flexible offering means we are able to quickly and efficiently devise the most suitable solution to suit our customers.
Whichever port you choose, all of our locations across the UK are fully equipped to maintain the integrity, cleanliness, and quality of our customer' products.