Ro-Ro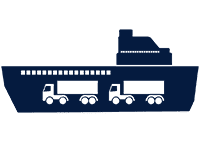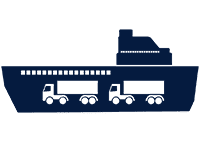 We have considerable ro-ro expertise, with facilitates in all of our major ports offering a variety of ro-ro services. Regular schedule European freight ferries, car carriers, international service calls bringing specialised cargoes, and one-off project cargo shipments. Our ports have a range of different berths to facilitate this, including deep-water berths, linkspan tidal berths, and non-tidal berthing facilities.
London
The Port of Tilbury is ideally situated, close to mainland Europe and with 70% of the UK population living within 120 miles. Coupled with our vast experience this strongly positions the Port of Tilbury to support ro-ro business growth. The port hosts 16 freight service calls per week from Europe, including two daily ferries from Zeebrugge for P&O, and regular service calls from Scandinavia, Africa, and South America.
In addition to our regular ferry ro-ro services we also handle specialist ro-ro shipments of cars, plant equipment, and project cargoes. To support growth in these sectors, a new ro-ro terminal is planned to be built for P&O Ferries as part of the Tilbury2 development, creating a new deep-water ro-ro river berth, located only 10 miles from the M25.
Scotland
All four of our major ports in Scotland have ro-ro facilities.
Our primary specialist facility is at Forth Ports Rosyth, where we have a floating linkspan direct onto the River Forth. This is accessible at all tides and facilitates fast turnaround times. There is a modern surfaced terminal offering freight facilities for containers, trailers, trade cars, wheeled cargos and unit loads of all kinds.
Forth Ports Leith also offers excellent facilities. Its impounded dock system eliminates the need for linkspan connections, making it an ideal port for ships carrying new cars, rolling freight, or heavy indivisible trailer loads. There are two onsite car and freight compounds, capable of storing 1,200 cars or 250 trucks, with extensive developable land for higher volumes.
Elsewhere in Scotland, Forth Ports Grangemouth can handle ro-ro vessels on all of its berths; stern, bow and side port, due to the impounded water being maintained at no more than one metre from the quay surface. Further north, Forth Ports Dundee offers ro-ro facilities at its Eastern Wall berth, which can be used to move a wide variety of commodities including wind turbine sections.
Track your Container/Unit Online
Do you require up-to-date information on the status of your container/unit within Forth Ports Container Terminals or at our RoRo Terminal at Tilbury2?
If so, clicking on the button below will provide direct access to real-time container/unit status information from our state of the art Group Container Systems at Tilbury (London Container Terminal and Tilbury2 RoRo Terminal) or Port of Grangemouth in Scotland.
You can enquire by Container/Unit Number or Booking Reference on up to 50 containers/units or booking references at once with the option to cut and paste.
Please note: Track your Container/Unit Online does not currently support older version of Internet Explorer. Please ensure you are using a modern browser such as Chrome or Edge.