Warehousing & Storage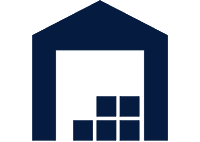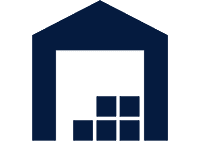 Forth Ports has over 7 million square feet of warehousing across our total estate, used to support each of our port services.  This allows us to create truly portcentric solutions for all our customers, providing them with cost savings and environmental benefits within their daily supply chain.  Across our network we offer:
Temperature Controlled Facilities
In 2016, the Port of Tilbury invested in building one of Europe's largest temperature-controlled quayside warehouses offering 25,000 storage pallet spaces and multi-temperature sections.  This along with 2 other temperature-controlled facilities makes the port a market leader in the perishable food and drink market.
CFS/Cross Docking
There are various logistics packages available at our ports, including container de-vanning and stuffing, warehousing, and distribution.  We offer a range of value added services, including re-palletising and wrapping, weighing, packaging and consolidation of loads for onward distribution.  If we can't directly offer the value added service it's likely that the services can be offered by one of our customer/tenants working onsite.
Bonded Warehouse
By providing bonded facilities to our container and ro-ro customers we can help improve supply chain costs and efficiencies.  Bonded warehousing provides a cost-effective way of importing to the UK, as customers only pay duty on goods as they leave the warehouse rather than the full consignment, as they would when using warehousing out-with a port.
Bulk
For customers importing and exporting bulk goods, our ports offer vast undercover storage facilities. We can even work with those interested in building dedicated onsite silo solutions.  Our warehouse expertise covers cement, specialised power materials, road salt, recycled commodities, and fly ash; providing standalone and integrated storage which is linked to onsite manufacturing and processing facilities.
Liquid
Many of our ports provide liquid tank farms to allow the importation of liquid products such as oil and liquid fertiliser.  Grangemouth has our largest bulk liquid terminal, which is key in supporting the oil and gas industry.
Paper
Paper is a commodity requiring specialised handling. For this reason, Forth Ports has invested in state-of-the-art facilities at our UK Paper Hub situated within the Port of Tilbury.  Here we offer multi user facilities, providing bespoke warehousing solutions for a range of paper, packaging and other forest products such as wood pulp or tissue.  Our Scottish ports also offer excellent paper handling, with some of the lowest product damage rates in Europe based on customer benchmarking with other ports.
Grain & Animal Feed
Given the nature of the product it is fundamental that the quality and integrity of these commodities is considered at all times.  We ensure our facilities are of the highest standard and compliant with all sector regulations, offering TASCC accredited warehousing across the group.  Warehouses to support this sector can be provided at all our ports, complemented by the following specialised facilities:
Port of Tilbury
The UK's largest grain terminal offers silo storage capacity of 120,000 tonnes and flat store capacity of 20,000 tonnes.  In addition to this, the port has a purpose-built animal feed shed with capacity for 60,000 tonnes.
Forth Ports Dundee
Dundee is ideally located to service much of rural Scotland and the port is home to one of the largest grain drying facilities in Scotland.
Forth Ports Rosyth
Rosyth has recently been selected as a major animal feed importer's Scottish Agri-Hub. It is undergoing a multimillion pound investment to create a new 200,000 square feet animal feed warehouse and a truly deep-water berth to accommodate vessels up to 50,000DWT.
General
Our ports handle a variety of breakbulk and project cargo, and where there is a requirement for undercover storage we can accommodate this.
Common User
This provides space to customers who do not necessarily wish to lease a full warehouse.  Please make an enquiry if you are interested in taking some common-user space.